The Hands-on Guide for Junior Doctors, 4th Edition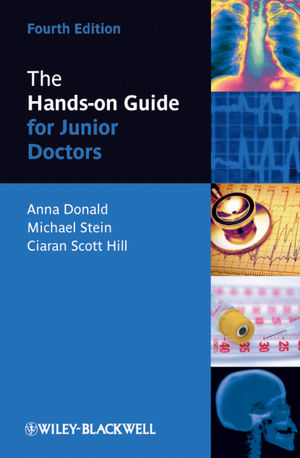 The Hands-on Guide for Junior Doctors, 4th Edition
ISBN: 978-1-444-39895-3 June 2011 Wiley-Blackwell 288 Pages
Download Product Flyer
Download Product Flyer
Download Product Flyer is to download PDF in new tab. This is a dummy description. Download Product Flyer is to download PDF in new tab. This is a dummy description. Download Product Flyer is to download PDF in new tab. This is a dummy description. Download Product Flyer is to download PDF in new tab. This is a dummy description.
Description
Are you about to start the Foundation Programme?
Do you know what to expect and how to thrive?
The Hands-on Guide for Junior Doctors, Fourth Edition, is the ultimate, practical guide for junior doctors and medical students. It helps you tackle the emotional, intellectual and physical demands of being a new doctor and allays common insecurities to help you make the most of your time in clinical practice.
This book tells you how to prepare for the daily rigours of hospital life, and will help you meet the required standard. It provides advice on getting started in placements, and helps you develop confidence, with tips on what to do as a junior member of the hospital team, and how to deal with common calls and emergencies. There is also an invaluable chapter on how to perform the practical procedures you'll be assessed on.
With the Foundation Programme such a demanding process, both physically and emotionally, this book also provides the kind of information you don't get at medical school, for example, how to look after yourself throughout your training.
Take the stress out of the Foundation Programme with The Hands-on Guide!
Table of contents
Introduction.
How to use this book.
Acknowledgements.
Dedication.
Abbreviations.
1 Starting up.
2 Getting organized or 'The Folder'.
3 Paperwork and electronic medical records.
4 Accident and emergency.
5 Becoming a better doctor.
6 Cardiac arrests and crash calls.
7 Common calls.
8 Death and dying.
9 Drugs.
10 Handle with care.
11 Approach to the medical patient.
12 Pain.
13 Practical procedures.
14 Radiology.
15 Surgery.
16 General practice.
17 Self-care.
Appendices: Useful tests, numbers and other information.
Index.
Further resources.
Reviews
"Intended for new doctors or those finishing the last year of medical school, this handbook provides a practical introduction to handling common medical scenarios, as well as discussion of the daily work life of a doctor." (Book News, 1 August 2011)
"The Hands-on Guide for Junior Doctors is a one stop guide for a new, and perhaps nervous graduate from medical school who is about to start their first job in August. It's a manual that tells you exactly what to expect and what to do at your job.
After graduating from medical school, our brains may be brimming with medical knowledge, facts and figures. However, this does not in any way prepare us for the practical aspects of the job. This title literally takes you on a journey of every possible situation and scenario that you may encounter as a JD. It identifies the problem and chalks out a detailed management plan that JD can use and implement at their jobs.
Another great element of the book is the section "common calls". It lists and goes through all the medical issues that JDs usually get called for. There is a very resourceful and systematic approach described to tackle each problem. So, while at medical school we are taught what are the things we need to do for chest pain, this book literally tell you step by step what to do. The title is just like a car manual!
I think the layout and content is excellent. It's a quick and easy read. It covers all the main topics. The table of contents is very thorough and makes any topic easy to find. I am not sure of any other book in the market that achieves what this title very beautifully captures. I would recommend the book to every new graduate starting their first job! The book is an insider information guide that can take many months to learn. With the help of this book, the information and resources are at your finger tips before you even start!
Southampton medical student graduating in 2012