The Hands-on Guide to Clinical Pharmacology, 2nd Edition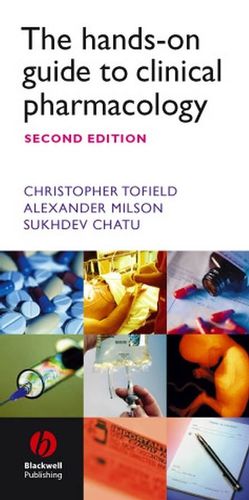 The Hands-on Guide to Clinical Pharmacology, 2nd Edition
ISBN: 978-0-470-75025-4 April 2008 Wiley-Blackwell 208 Pages
Description
This new edition is an updated practical book for junior doctors and medical students making the transition from medical school to life on the wards. This book presents information on 127 drugs, which junior doctors and students are most likely to encounter on hospital wards or during their course of study.
The hands-on guide to clinical pharmacology 2nd edition includes sections containing both treatment regimens of common conditions and detailed information on the relevant drugs that will help you obtain a better understanding of therapeutic management.
Written to provide a study aid or as a user friendly reference on the wards, the book gives you:


An essential learning tool for clinical pharmacology

A system based approach

A-Z of 127 key drugs in a one-drug-per-page format

Important interactions, adverse effects and contraindications

A fully indexed text

A quick reference, pocket-sized reassurance
This book will help take the stress out of clinical pharmacology and pharmacology exams!
Table of contents
Preface;.
Acknowledgements;.
Abbreviations;.
Introduction;.
Cardiovascular System;.
Respiratory System;.
Gastrointestinal System;.
Central Nervous System;.
Rheumatology;.
Pain Management;.
Infection;.
Immunization;.
Obstetrics & Gynaecology;.
Endocrine System;.
Anaesthesia;.
Poisoning & Overdose;.
Further Reading;.
Index
Reviews
"a dinky ward reference...pocket-sized reassurance for those with a shakey grasp of pharmacology."
-Sharp, May 2005
"The range of drugs included is appropriate for the target audience and the depth of material on offer is equally as well thought-out. [...] This is a very useful resource for medical students."
-Hospital Medicine, June 2005

"It summarises the key points for each medication and will make a useful revision aid or a user friendly reference on the wards. I think this would make a cheap, concise, usable text of clinical pharmacology for a clinical student."

-Black Bag, Bristol Medical Magazine Winter 2005.
What's New


A short practical reference guide for medical students and junior doctors for quick revision and use on the wards


Over 100 drugs are listed and organised by body systems


Each section begins with concise information and advice on the management of the common medical conditions of that system


Each drug has information on: Indications, Mechanism, Side Effects, Contra-Indications, Interactions, Formulation, and Cost


New sections include 'Skin', and new material is written on the Central Nervous System and the Infection sections