The Harvard Medical School Guide to Suicide Assessment and Intervention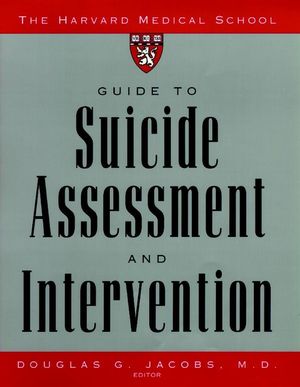 The Harvard Medical School Guide to Suicide Assessment and Intervention
ISBN: 978-0-787-94303-5 December 1998 Jossey-Bass 736 Pages
Download Product Flyer
Download Product Flyer
Download Product Flyer is to download PDF in new tab. This is a dummy description. Download Product Flyer is to download PDF in new tab. This is a dummy description. Download Product Flyer is to download PDF in new tab. This is a dummy description. Download Product Flyer is to download PDF in new tab. This is a dummy description.
Description
This vital resource--edited by Harvard Medical School's DouglasJacobs, a nationally recognized expert on suicide anddepression--is the definitive guide for helping mental healthprofessionals determine the risk for suicide and appropriateinterventions for suicidal or at-risk patients. Created primarilyfor mental health clinicians (with several chapters directed towardprimary care physicians), the book is a hands-on guide for thosewho are often the first line of defense for assessing if a patientor client is suicidal.

Comprehensive in scope, the book offers a wealth of informationabout such useful topics as inpatient and outpatient issues,psychopharmacology, and advice about working with specialpopulations. Most importantly, the book's contributors detaileffective techniques for intervention and offer a model of suicideassessment that focuses on predisposing conditions, potentiatingconditions, and specific suicide inquiries. As a special feature,the book also includes a helpful section on contracts--agreementsmade with the patient not to harm themselves--and useful factsabout the subsequent liability issues. In addition, there is acompelling analysis of the controversial issues surroundingassisted suicide as well as an honest personal account ofsuicidality from a professional who has experienced it for herself.
Table of contents
Foreword, Joseph T. Coyle, M.D.

Preface, Douglas G. Jacobs, M.D.

ASSESSMENT.

Suicide Assessment: An Overview and Recommended Protocol (D.Jacobs, et al.).

Epidemiology of Suicide (E. Moscicki).

A Community Psychiatry Approach to Preventing Suicide (R. Dorwart& M. Ostacher).

The Psychodynamic Understanding of Suicide (J. Maltsberger).

Perturbation and Lethality: A Psychological Approach to Assessmentand Intervention (E. Shneidman).

The Neurobiology of Suicidal Behavior (J. Mann & V.Arango).

Profiles of Completed Suicides (J. Fawcett).

Self-Mutilation (A. Favazza).

Standard Protocol for Assessing and Treating Suicidal Behaviors forPatients in Treatment (M. Linehan).

Murder Suicide: Phenomenology and Clinical Implications (M. Nock& P. Marzuk).

Excerpts from Academic Conference and Recognition of Suicidal RisksThrough the Psychologic Examination (L. Havens).

Critical Points in the Assessment and Management of Suicide Risk(J. Motto).

Can Suicide Ever Be Eradicated?: A Personal Journey (P.Cantor).

INTERVENTION.

Suicide and Manic-Depressive Illness: An Overview and PersonalAccount (K. Jamison).

Lifetime Risk of Suicide in Major Affective Disorders (D. Clark& A. Goebel-Gabbri).

Suicide and Schizophrenia (M. Tsuang, et al.).

Substance Abuse and Suicide (R. Weiss & M. Hufford).

Borderline Personality Disorder (T. Davis, et al.).

Trauma and Suicide (J. Chu).

Antisuicidal Effect of Lithium Treatment in Major Mood Disorders(R. Baldessarini & L. Tondo).

Treatment of the Suicidal Patient with Psychotropic Drugs and ECT(C. Salzman).

The Inpatient Management of Suicidality (G. Jacobson).

ECT and Suicide (E. Metzger).

SPECIAL ISSUES.

Suicide in Children and Adolescents (S. Goldman & W.Beardslee).

Suicide in the Elderly (D. Steffens & D. Blazer).

Suicide-Prevention Contracts: Advantages, Disadvantages, and andAlternative Approach (M. Miller).

Guidlines for Conducting a Suicide Review (S. Stelovich).

Medical Settings and Suicide (M. Kelly, et al.).

Suicide Assessment in the Primary Care Setting (M. Miller & R.Paulsen).

Suicide, Assisted Suicide, and Euthanasia (H. Hendin).

Liability Issues and Liability Prevention in Suicide (T.Gutheil).

Appendix A: Guidelines for Identification, Assessment, andTreatment for Suicidality.

Appendix B: Risk Management Foundation of the Harvard MedicalInstitutions.

References.

About the Authors.

Name Index.

Subject Index.
Reviews
"The Harvard Guide puts the best and the brightest of consultingsuicidologists on the practicing clinician's bookshelf, . . . .must-read." (Lanny Berman, executive director, American Associationof Suicidology)

"[This book] presents the most up-to-date material and combinesthis framework with practical suggestions for the clinician. Thisis sure to become a classic." (Alan F. Schatzberg, Kenneth T.Norris, Jr. Professor and chairman, Department of Psychiatry andBehavioral Sciences, Stanford University School of Medicine)

"The threat of suicide is riveting; its reality is devastating; itis our life-or-death clinical challenge. This volume is thesingularly comprehensive, authoritative, definitive, and usefultext on suicide. We are now strengthened for our work." (Jerrold F.Rosenbaum, Massachusetts General Hospital, Harvard MedicalSchool)

"For the clinician needing help with a suicidal patient?this isyour book. For the student or researcher seeking the state of theart on suicide?this is your book." (Robert M. A. Hirschfeld, TitusHarris Distinguished Professor and chair, Department of Psychiatryand Behavioral Sciences, University of Texas Medical Branch atGalveston)