The Harvey Lectures Series 94, 1998-1999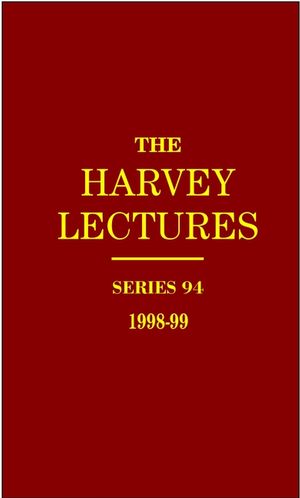 The Harvey Lectures Series 94, 1998-1999
ISBN: 978-0-471-40125-4
Oct 2000
188 pages
Description
The Harvey Society was founded in 1905 by thirteen New York scientists and physicians with the purpose of forging a "closer relationship between the purely practical side of medicine and the results of laboratory investigation." The Society distributes scientific knowledge in selected areas of anatomy, physiology, pathology, bacteriology, pharmacology, and physiological and pathological chemistry through public lectures, which are published annually.

Series 94, 1998-1999 covers themes in neurogenetic studies, the role of tyrosine phosphorylation in cell growth and disease, the biology of the epidermis and its appendages, and the phenotypic diversity of monogenic disease.
The Phenotypic Diversity of Monogenic Disease: Lessons from the Thalassemias (D. Weatherall).

Humble Starts and Conserved Themes in Neurogenetic Studies (Y. Jan & L. Jan).

Beauty is Skin Deep: The Fascinating Biology of the Epidermis and Its Appendages (E. Fuchs).

The Final Step in Gene Expression: Caperonin Assisted Protein Folding (P. Sigler).

The Role of Tyrosine Phosphorylation in Cell Growth and Disease (T. Hunter).

Visualizing Antigen Recognition (M. Davis).

Lessons from the Immune System: From Catalsis to Materials (P. Schultz).

Former Officers of the Harvey Society.

Cumulative Author Index.

Active Members.