The Healing Journey for Couples: Your Journal of Mutual Discovery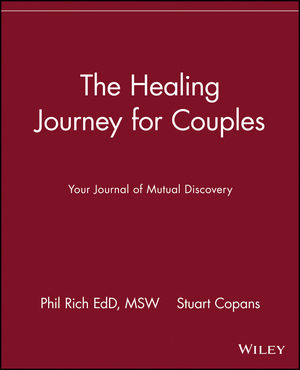 The Healing Journey for Couples: Your Journal of Mutual Discovery
ISBN: 978-0-471-25470-6
Aug 1998
271 pages
Description
This new series of books uses guided journal entries to help readers define and explore life challenges and stages, past behaviors, and goals for the future. These informational and inspirational personal chronicles are designed to be used independently, or with the help of a therapist.

Each Healing Journey:
* Is written by professional therapists, and provides expert guidance on life problems, personal insight, and psychological change.
* Includes dozens of guided journal entries directed toward helping readers get in touch with their feelings, conquer life's hurdles, and gain a better understanding of themselves and their relationships.
* Features an inviting format, with ample room for readers to complete their journal entries.


"A creative guidebook for couples seeking a deeper understanding of their relationship"--JOHN GRAY, author of Men are from Mars, Women are from Venus, on The Healing Journey for Couples.

"By far the best journaling workbook I have seen. It takes the user on a very personal journey to improve self-esteem, quality of life, and overall health." Mary Ellen Copeland, author of The Depression Workbook, on The Healing Journey.

Designed to help couples explore the facets of their individual personalities and the dynamics of their relationship, this book can help them examine their history together and map out their hopes and plans for the future. Organized in an attractive format, this book provides ample room for both partners to record their thoughts, and helpful suggestions on how to discuss the issues raised in the couples journal.
Partial table of contents:

EXPLORING YOUR RELATIONSHIP.

A Promise to Each Other.

Guided Writing.

A Family Affair.

What Sort of Couple Are We?

Mapping Your Relationship.

RECORDING YOUR HISTORY.

Remembering the Day...

The Ten-Minute Biography.

Places in Our Lives.

Free-Form History.

DISCOVERING ONE ANOTHER.

Face-to-Face: Here's Looking at You.

An Important Possession.

An Unlikely Possession.

Five Crucial Flaws.

SHARING PERSPECTIVES.

Shifting Perspectives.

Blind Spots.

Changing Your Partner.

What's on Your Mind?

COMMUNICATION AND PROBLEM SOLVING.

Feedback.

Expressing Yourself.

What's Bothering You?

Surviving Tension.

Find Solutions.

INTIMACY.

Exploring Intimacy.

Staying Alive: Rediscovering Intimacy.

Senseless Acts of Intimacy.

THE END AND BEGINNING OF YOUR COUPLES JOURNEY.

Your Relationship Map and Beyond.

Conclusion.

Acknowledgments.

About the Authors.