The Health of Men and Women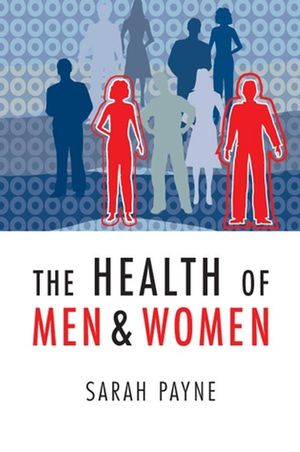 The Health of Men and Women
ISBN: 978-0-745-63454-8 September 2006 Polity 240 Pages
Description
This comprehensive text looks in detail at important patterns in men and women's health. It takes account of the ways in which sex and gender interact, both with each other and with other forms of difference, such as race, ethnicity and socio-economic disadvantage. In addition to drawing on data and debates from the USA, the UK and other industrialized nations, it examines health in developing countries, giving the book a strong international and comparative focus. As well as discussing a range of health-related behaviours, such as diet, exercise, alcohol, smoking and drug use, the book explores in depth topics such as mental health, morbidity and reproduction.
The Health of Men and Women is written particularly with the needs, interests and abilities of upper-level undergraduate students in mind. It will be of particular interest to those studying the sociology of health and illness, and will also be highly relevant to courses on gender, race and ethnicity, and a range of other key sociological issues.
Table of contents
List of Figure and Tables.
Acknowledgements.
Sex, Gender and Health.
Explaining the Health of Women and Men.
Illness and Health: Sex, Gender and Morbidity.
Women, Men and Mental Health.
Gender, Sex and Sexual and Reproductive Health.
Death, Dying, Sex and Gender.
Conclusion.
References.
Index.
Reviews
"The rich data Payne presents, together with her clear conceptual model, will make this book immensely useful for teaching as well as an invaluable resource for research."
Sociology of Health and Illness
"This book clearly reviews similarities and differences in women and men's physical and mental health as shaped by both gender and sex-linked biology, and also varying by outcome and by age, class, race/ethnicity, sexuality and global region. Refreshingly resisting misleading simplifications, Sarah Payne encourages critical thinking about gender, biology and population health."
Nancy Krieger, Harvard School of Public Health
"In this highly topical book, Payne provides comprehensive synthesis of research evidence on the relationship between gender and health. Researchers and policy-makers have only recently begun to take an inclusive approach to gender and health. The Health of Men and Women will be an indispensable resource for the development of research and practice."
Ellen Annandale, University of Leicester
"It is difficult to imagine a more timely book on gender and health. Women's health movements, research advocacy and theory emerged more than three decades ago. The study of men's health and gender did not fully issue until the 1990s. Until now, these two areas of enquiry and health policy have developed separately, and the pursuit of gender equity in public health has been stymied by a lack of an integrative vision. Sarah Payne provides a conceptual bridge between these growing subfields with this lucidly written, well-documented and comprehensive analysis of gender differences and similarities between women's and men's around the globe."
Don Sabo, D'Youville College