The Healthy Body Cookbook: Over 50 Fun Activities and Delicious Recipes for Kids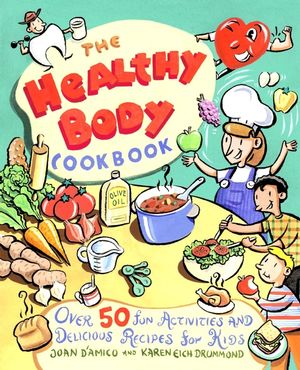 The Healthy Body Cookbook: Over 50 Fun Activities and Delicious Recipes for Kids
ISBN: 978-0-471-18888-9
Dec 1998
196 pages
Description
Learning about health and science has never been so fun --and delicious!

What does a heartbeat sound like? How strong is my hair? Why do my eyes blink? What's in a sports drink? With more than 50 safe and easy recipes and activities to try, you'll discover the nutritious answers to these and tons of other scrumptious mysteries. And best of all, you get to eat the results when you're finished! You'll make carbohydrate-packed Blueberry Power-Snack Turnovers, protein-boosting Crunchy Chicken Fingers, calcium-rich Creamy, Dreamy Yogurt Orange-Banana Frozen Pops, and much more.

The Healthy Body Cookbook is a delightfully clever smorgasbord of hands-on lessons about the crucial role that diet and exercise play in the development of heart, blood, bones, muscles, skin, teeth, and the nervous and digestive systems. All activities are kid-tested and require only common ingredients and kitchen utensils. There's also a helpful list of safety rules, an explanation of tools and skills, and nutritional values for each recipe.
YOUR AMAZING BODY.

Have a Healthy Heart!

The Traveling Blood Show.

Muscular Motions.

Long, Strong Bones!

"Look, Mom, No Cavities!" Simply Radiant Skin, Hair, and Nails.

No-Stress Nerves.

Moving Through the Digestive System.

STAYING HEALTHY.

Enter the Food Guide Pyramid.

No More Couch Potato!

Maintaining a Healthy Weight.

Disease Fighters: Five a Day for Better Health.

Appendices.

Glossary.

Index.