The Heart Beats on the Left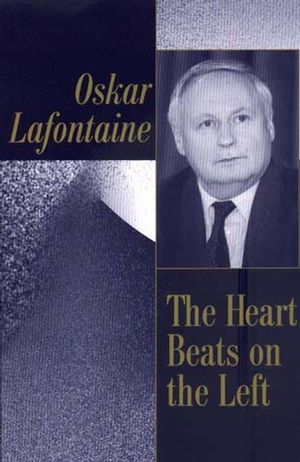 The Heart Beats on the Left
ISBN: 978-0-745-62581-2 October 2000 Polity 248 Pages
Description
This is the English-language edition of what has become one of the most controversial books in German politics today. Oskar Lafontaine was the leader of Germany's Social Democratic party and finance minister in Gerhard Schr?der's government until he suddenly resigned in March 1999. Lafontaine's left-wing commitments brought him into conflict with Schr?der's endorsement of third way politics and with his attempt to remodel the SDP along the lines of Tony Blair's New Labour.
The Heart Beats on the Left is the inside story of why Lafontaine broke with the SDP and Schr?der's government, and why he believed that the social and political costs of Schr?der's third way politics were too high. It is a merciless settling of scores in which the policies of Schr?der and his government are subjected to scathing criticism. But it is also the most sustained criticism of third way politics from a prominent political figure who stands on the left.
A bestseller in Germany and already translated into many languages, this book is bound to be widely reviewed in English and to become a focal point for political debate about social democracy and its future.
Table of contents
Preface to the English edition.
Preface.
1. In the Wake of Willy Brandt.
2. A New Economic and Fiscal Policy.
3. The Rush to Lower Taxation.
4. The Election Campaign.
5. Red Socks - Red Hands.
6. Running for Federal Office.
7. My Friendship with Gerhard Schr÷der.
8. Hammering out the Government's Programme.
9. Choosing a Team.
10. The Formation of a Coalition Government.
11. The Red-Green Coalition.
12. Getting off on the Wrong Foot.
13. The Elections in Hesse.
14. Germany and France.
15. International Fiscal Policy.
16. My Resignation.
17. The War in Kosovo.
18. The Medium is the Message.
19. Flexibility.
20. The Third Way is a Route to Nowhere.
21. A Glimpse of the Future.
Index.
Reviews
'It is remarkable how much the key personalities in left-of-centre British and German politics seem to despise each other. For Cook hating Mandelson hating Mowlam hating Brown hating everyone, substitute Scharping, Vogel, Schröder and Lafontaine. Just as policy disagreements helped bring an end to the last two right-of-centre governments in Britain and Germany, Lafontaine's book makes clear, however unintentionally, that it is the abundance of personality clashes that will do the same for the current administrations in both countries. Michael Portillo once said that the Major Cabinet was a Cabinet of chums: on a personal level they actually rather liked each other. The Blair and Schröder cabinets are like vipers' nests. Both may meet sticky ends.
'He complains bitterly of the difficulty of governing with four conflicting centres of power - the party executive, the chancellor's office, the parliamentary party and the upper house. Lafontaine wanted complete control of all of them, but ended up with nothing. His experience should serve as a warning for every new Labour cabinet minister' Iain Dale, New Statesman

'A revealing account of his experiences in the lead-up to and the aftermath of the Red-Green coalition of 1998 ... Lafontaine was then, as he is now in his retrospective account, uncompromising in his commitment to what he sees as the core values of the Left. In the preface to this English translation, in a message directed explicitly at British readers, he argues that "the only chance that social democrats have of winning political majorities is by representing the interests of workers, the unemployed and pensioners".' London Review of Books

'Oskar Lafontaine's latest book presents his resignation from Gerhard Schroeder's government as a case study illustrating the fault lines within European Social Democracy ... the resignation issue was the abandonment of social democracy, in other words. This is itself makes the book worth reading, restoring one's faith in the politics of principle.' Red Pepper

'There is no intrinsic harm in standing out against prevailing orthodoxies: on the contrary, it can be an uncomfortable but brave position. On many of the above issues, at least until one reads this book, it is easy to sympathise with little Oskar, manfully beating his drum for what he claimed to believe in.' German Politics
What's New
1. This is one of the most controversial books published in Europe in the last decade. It was an enormous success in Germany and is being translated into many languages.
2. The inside story of why Oskar Lafontaine broke away from the third way politics of Schr?der's government
3. Addresses a range of issues central to the nature and future of social democracy