The Heart of Higher Education: A Call to Renewal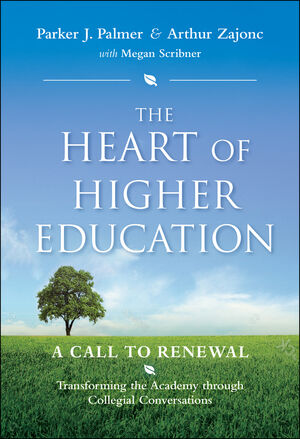 The Heart of Higher Education: A Call to Renewal
ISBN: 978-0-470-63847-7 June 2010 Jossey-Bass 256 Pages
Description
A call to advance integrative teaching and learning in higher education.

From Parker Palmer, best-selling author of The Courage to Teach, and Arthur Zajonc, professor of physics at Amherst College and director of the academic program of the Center for Contemplative Mind in Society, comes this call to revisit the roots and reclaim the vision of higher education. The Heart of Higher Education proposes an approach to teaching and learning that honors the whole human being—mind, heart, and spirit—an essential integration if we hope to address the complex issues of our time. The book offers a rich interplay of analysis, theory, and proposals for action from two educators and writers who have contributed to developing the field of integrative education over the past few decades.
Presents Parker Palmer's powerful response to critics of holistic learning and Arthur Zajonc's elucidation of the relationship between science, the humanities, and the contemplative traditions
Explores ways to take steps toward making colleges and universities places that awaken the deepest potential in students, faculty, and staff
Offers a practical approach to fostering renewal in higher education through collegiality and conversation
The Heart of Higher Education is for all who are new to the field of holistic education, all who want to deepen their understanding of its challenges, and all who want to practice and promote this vital approach to teaching and learning on their campuses.
Foreword (Mark Nepo).
Gratitudes.
The Authors.
Introduction.
1 Toward a Philosophy of Integrative Education.
2 When Philosophy Is Put into Practice.
3 Beyond the Divided Academic Life.
4 Attending to Interconnection, Living the Questions.
5 Experience, Contemplation and Transformation.
6 Transformative Conversations on Campus.
Afterword.
About the Appendices: Experiments in Integrative Education.
Appendix A In the Classroom.
Appendix B Beyond the Classroom.
Appendix C Administrative and Campuswide Initiatives.
Endnotes.
Palmer and Zajonc have issued a compelling call for change and renewal in higher education. They show us how colleges and universities can be transformed by taking a more integrated approach to teaching and learning that focuses on the inner lives of their students and faculty.
" —Alexander and Helen Astin, Higher Education Research Institute, UCLA
"At a moment when many are dreaming of an integrative form of higher education that unites intellectual rigor with compassion and love, Palmer and Zajonc invite us to engage in conversations designed to infuse the academy with meaning, purpose, and soul. For those who yearn to transform colleges and universities from sterile, vacuous spaces to places of hope, possibility, and respect for everything human, this is the book you have been waiting for."
—Laura I. Rendón, professor of higher education, Iowa State University, and author, Sentipensante Pedagogy: Educating for Wholeness, Social Justice and Liberation
"Parker Palmer and Arthur Zajonc call for a renewal of our commitment to inspiring deeper thinking and educating the whole person. This book should and will inspire debate about our larger purpose, about how we can go beyond the traditional silos in which we work for the sake of individual and institutional transformation."
—Anthony Marx, president, College
"What should be at the center of our teaching and our students' learning? Palmer and Zajonc take up this simple but daunting question and provide the most solid ground yet on which to hold a conversation about the heart of our enterprise. They reimagine higher education in a way commensurate with the magnitude of our problems and offer us practical paths toward implementation. Integrative education is the most important reformation of higher learning since the rise of the modern university. This book can help us achieve it."
—Anthony Lising Antonio, associate professor of education and associate director, Stanford Institute for Higher Education Research, Stanford University
"[The book] strikes a welcome balance between theoretical claims and practical applications. I find [it] a worthy read for anyone interested in asking the deeper questions about what it means to educate an undergraduate. I encourage you to find the paragraphs that resonate most deeply with you, and to do the one thing the authors ask of us: have a meaningful conversation about higher education with a few colleagues. For, as they put it, 'renewal…will germinate first in the soil of these caring and collegial conversations.'"
—Allison Gale, Departmental Teaching Fellow for Earth and Planetary Sciences, for The Bok Blog