The Hickey Multisensory Language Course, 3rd Edition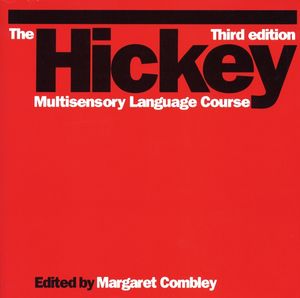 The Hickey Multisensory Language Course, 3rd Edition
ISBN: 978-1-861-56178-7
Dec 2000
432 pages
Description
The Hickey Multisensory Language Course has become a classic.  It is widely used throughout the UK by teachers working with dyslexic learners of all ages, and is a core text for university courses directed at specialist teachers.  Moreover, it has exerted a powerful influence on approaches to teaching literacy skills, including the National Literacy Strategy Framework for teaching.  Children now have an entitlement to access to the National Curriculum.  Special educational needs, including dyslexia, must be identified, assessed, and addressed, mostly within an inclusive mainstream classroom.  Special programmes such as the Hickey are implemented as part of an Individual Education Plan, and need to be linked to the Literacy Hour.  The Third edition makes explicit links with current classroom organisation and gives examples of appropriate IEPs, and suggestions for use of ICT.  To address the need for specific training in phonological awareness, the Hickey Lesson Plan has been modified, and a chapter added which includes specific games and activities to develop phonological awareness, and to develop the use of strategies in reading a range of whole texts.
Part 1.
Some Basic Problems Which may Affect School Performance.
The pupil's Need for Simultaneously Seeing, Hearing, Saying and Writing The Written word When Learning Written Language Skills.
Taking Hickey Into The 21st century.
The Language Training Course.
The Alphabet and Dictionary.
Handwriting.
Reading.
Spelling.
Story Writing.
Suggestions for Self-learning activities in Reading and Spelling.
Part 2.
The Language Training course.