The Hidden PowerTM of Photoshop® CS: Advanced Techniques for Smarter, Faster Image Processing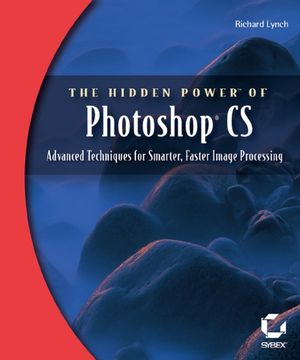 Description
Required Reading for Serious Photoshop Users
Photoshop is a powerful tool created for those with demanding image-processing needs. If you are an experienced user or a professional who wants to take advantage of the real power that lies inside Photoshop, this is the book that shows you how to tap the source.
The Hidden Power of Photoshop CS takes a rigorously image-focused approach starting with exercises to help you view images in terms of color and tone components. This is not just theory, but a set of practical techniques you can use to separate, modify, and recombine any image. This perspective provides an essential foundation for your work. Your guide and mentor, Richard Lynch, follows through with practical information on using Photoshop's most advanced tools for everyday imaging tasks. Finding these often obscure features is half the trick; understanding what they're actually for and how they work is the other. Here's just a little of what you'll learn:
Understand how images work
Introduce color to original black-and-white images
Isolate and repair color and tone problems
Master CMYK by performing manual CMYK separations
Use layer modes, Blend If, and masks to make corrections and calculations
Apply filters sensibly and practically
Create photo-realistic objects from scratch using light, shadow, and color
Work with vectors to create infinitely scalable art
Use ImageReady's rollover and animation features to set your images in motion
Use actions and scripts to simplify your workflow and enhance the interface
Introduction.
PART I: IMAGE COLOR.
Chapter 1: General Tone and Color Correction.
Chapter 2: Color Separations.
PART II: ALTERING IMAGE OBJECTS.
Chapter 3: Image Change and Repair.
Chapter 4: Filters for Correction.
PART III: CREATING OBJECTS, PHOTO-REALISM, AND ILLUSTRATION.
Chapter 5: Shaping Objects.
Chapter 6: Vectors and Illustration.
PART IV: IMPLEMENTING IMAGES.
Chapter 7: Image Output Options.
Chapter 8: Creating Images for the Web with Photoshop and ImageReady.
PART V: AUTOMATING PHOTOSHOP AND EXPANDING HORIZONS.
Chapter 9: Creating, Editing, and Using Actions.
Chapter 10: Exploring Techniques Further.
Appendix.
Index.
Chapter
Page
Details
Date
Print Run
Combined Errata


Missing CD Files
The file is available in the download section.


---