The Hidden PowerTM of Photoshop® Elements 3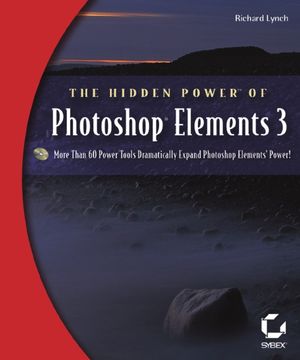 The Hidden PowerTM of Photoshop® Elements 3
ISBN: 978-0-782-14385-0
Jan 2005
355 pages
Product not available for purchase
Description
Clear Instruction + Custom Power Tools = Supercharged Results from Photoshop Elements
Thanks to release 3, which offers RAW support and 16-bit image editing for digital photographers, Photoshop Elements is more powerful than ever. But here's the real news: this popular application already contains a huge stash of hidden power that anyone with the right knowledge and tools can put to work.
In this thorough update of his award-winning best-seller, Richard Lynch supplies those tools, plus the in-depth background and detailed instruction you need to apply them effectively. In no time, you'll be using Photoshop Elements to get results you never thought possible. For example:
Get better color by using channels, custom separations, and image luminosity
Create photo-realistic objects and incorporate them into existing images
Use animation and rollovers to make images dynamic
Correct image tone and color with Curves, Color Balance, and custom layer-blending tools
Target your corrections by using advanced masks and selections
Use vectors to create scalable line art for logos
Introduction.
PART I: PREPARATION AND CONCEPTS FOR SERIOUS IMAGE EDITING.
Chapter 1: Essentials of Images and Image Editing.
PART II: WRESTLING WITH IMAGE TONE 41 AND CONTRAST.
Chapter 2: Separating Image Components.
Chapter 3: Correcting Image Tone.
PART III: SERIOUS COLOR CORRECTION.
Chapter 4: General Color Correction Applying Levels and Curves.
Chapter 5: Specific Color Enhancement.
PART IV: REBUILDING IMAGES.
Chapter 6: Altering Composition.
Chapter 7: Reshaping Image Elements.
PART V: IMAGES IN PRINT.
Chapter 8: Vectors.
Chapter 9: Options for Printing.
PART VI: IMAGES ON THE WEB.
Chapter 10: Creating and Using Web Graphics.
Appendix: Other Concepts and References.
Index.
Combined Errata,

Page 35,37

Question 19
Question 19/Page 35 - The question asks which protocols are used by
> web
> browsers. The answer on Page 37 claims that both HTTP and HTML are
> the
> correct answers. The actual explanations given of HTTP and HTML are
> correct, but HTML is not a valid answer to the question. Although it
> is
> indeed used by web browsers, as your own answer states, it is a
> language,
> not a protocol.

In regards to question 19...

I'd say we should change the answer to this:
"Answer: A. HTTP is the protocol used to define how messages are sent
between a web browser and a web server."


Will

Page FAQ

The Password can be found on the 23rd page of the book--in the Introduction, under The Hidden Power Tools. To find this page, go to Part I, Preparation and Concepts for Serious Image Editing and count back four pages.