The Hidden Power of Photoshop Elements 4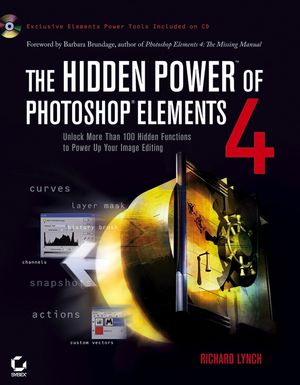 The Hidden Power of Photoshop Elements 4
ISBN: 978-0-470-05126-9
Jul 2006
342 pages
Description
"...perfect for the digital photographer.... The depth of information on all aspects of color control is astonishing. Anyone who needs detailed control over every aspect of their images will revel in this book."
—Computer Arts Magazine http://www.computerarts.co.uk

There's More to Photoshop Elements Than Meets the Eye

In this unique book, expert author Richard Lynch reveals hidden functionality in Photoshop Elements-advanced features concealed in the code that dramatically extend the power of the software. First you'll learn high-level image editing from this renowned professional, then vault yourself into the ranks of advanced power users with the more than one hundred Hidden Power tools he provides on CD. You'll be amazed at what you can do!

Inside, discover features usually found only in advanced image editors:
Add shadows, highlights, and contrast with new Curves Presets
Get beautiful and accurate color printing with CMYK separations tools
Use the hidden Blend If and other power tools to apply sophisticated masks
Emulate the Channel Mixer and Calculations functions of Photoshop
Handle an image from start to finish using only the included Hidden Power tools
Take full advantage of the latest Elements 4 updates to color management settings and Adobe(r) Gamma procedures
Discover dozens more high-end functions such as snapshots, clipping paths, the history brush, and others
Exclusive Elements Power Tools Included on CD!
Unlock more than 100 hidden functions to power up your image editing, including:
Color separations (RGB, CMYK, or Lab)
Masking
Channels
Snapshots and History Brush
Clipping Paths
Custom Vectors
Enhanced Sharpening
Guides
Fade
Align/Distribute Objects
The CD also includes numerous images and project files to use along with exercises in the book.
Note: CD-ROM/DVD and other supplementary materials are not included as part of eBook file.
Introduction.
PART I:  ESSENTIALS FOR SERIOUS IMAGE EDITING.
Chapter 1: Resolution: The Cornerstone of Image Detail.
Chapter 2: Seeing Images as Color, Contrast, and Tone.
Chapter 3: The Image Editing Process Outline.
PART II:  WRESTLING WITH IMAGE TONE AND CONTRAST.
Chapter 4: Separating and Combining Image Components.
Chapter 5: Correcting Image Tone.
PART III:  SERIOUS IMAGE CORRECTION.
Chapter 6: Color and Tone Enhancement.
Chapter 7: Altering Composition.
Chapter 8: The Image Process in Action.
PART IV:  CONTROLLING AND ENHANCING IMAGES IN PRINT.
Chapter 9: Creating and Using Vectors.
Chapter 10: Color Separations for Print.
Chapter 11: Options for Printing.
Appendix: Community, Concepts, and References.
Index.
Features a customized version of the Savvy design.
Proven seller: Previous editions received great reviews and attracted a strong following among serious users, especially photographers making the switch to digital.
Clearly differentiated: This is the only book for Elements power users.