The Hispanic World in Crisis and Change: 1598 - 1700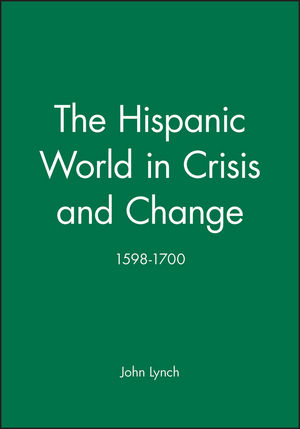 The Hispanic World in Crisis and Change: 1598 - 1700
ISBN: 978-0-631-19397-5 December 1994 Wiley-Blackwell 460 Pages
Description
The seventeenth century has gained enormously from the resurgence of historical studies in Spain and from the contributions of historians outside the penninsula. In this book, John Lynch has taken account of this research to substantially revise and expand his Spain Under the Hapsburgs, Volume II . It retains its previous framework, and provides a penetrating account of Spanish society, economy, government and politics during this period.
Table of contents
List of Illustrations and Maps.
Preface.
1. The Hispanic World in 1600.
2. The Government of Philip III.
3. Recession and Reaction.
4. Olivares, Castile and Imperial Spain.
5. The Great Crisis: 1640 and After.
6. Society and Economy.
7. American Trade: Recession and Revival.
8. Spanish America: A Changing Empire.
9. Government and Society in the Reign of Charles II.
10. The End of Habsburg Spain.
Appendix I.
Appendix II.
Bibliography of Recent Works.
Index.
Reviews
"Many besides Hispanists who rejoiced in 1964-9 when Professor Lynch gave them a balanced and thoroughly readable account of the two centuries of Spanish history under the Habsburgs must warmly welcome the new editions which form part of Blackwell's
History of Spain."
History
"This useful collection deserves a wide readership. The appearance of a revised version of the second volume of John Lynch's Spain under the Habsburgs is welcome." European History Quarterly
"It is still the major work of synthesis written in English. The fact that it is but one part of an ambitious fourteen volume collection covering Spanish history from prehistoric to modern times perhaps enhances its value." Sixteenth Century Journal
Features
Incorporates important recent research which substantially revises our view of seventeenth-century Spain
A paperback edition of the classic history of Spain's American Empire at its height.