The Holocaust and the Liberal Imagination: A Social and Cultural History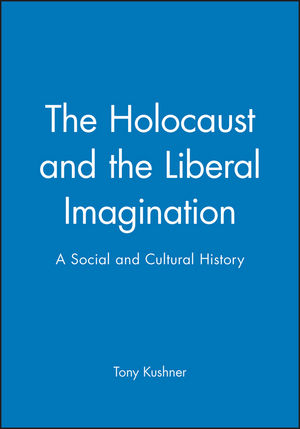 The Holocaust and the Liberal Imagination: A Social and Cultural History
ISBN: 978-0-631-19483-5
Jan 1995, Wiley-Blackwell
384 pages
Description
The Holocaust and the Liberal Imagination attempts to explain and not to condemn the responses and reactions of the democratic world to the attempted destruction of European Jewry. It concentrates on the impact of the Holocaust on ordinary people in the democracies and examines the actions of the nation-state in the light of popular responses. Ultimately this study argues that the Holocaust is not simply German, Jewish or continental history but is an integral but neglected part of the experience of many countries away from the killing fields. It is the first social and cultural history of its subject.
Acknowledgements.
Preface.
Introduction: The Holocaust in Global Perspective and as Social History.
Part I: 1933-1939:.
1. Liberal Culture and the Nazi Persecution of the Jews, 1933-1939.
2. Their Brothers' (and Sisters') Keepers?: The Nazi Persecution of the Jews and the Labour Movement.
3. An Alien Occupation: Domestic Service and the Jewish Crisis, 1933 to 1939.
Part II: The Second World War:.
4. Liberal Culture and the Contemporary Confrontation with the Destruction of European Jewry.
5. From the 'Enemy Within' to 'This Bestial Policy of Cold-Blooded Extermination': Britain, the United States and the Jews, September 1939 to December 1942.
6. Rules of the Game: Britain, the United States and the Holocaust, 1943 to 1945.
Part III: The Post-War World:.
7. Liberal Culture and the Postwar Confrontation with the Shoah.
Conclusion.
"An outstanding contribution to the history of the Holocaust and the basis for further research."
Mark Levene, University of Warwick
"Scholarly, readable, informative and exhaustively researched book. A formidable contribution to the study of the bystander in Holocaust history." Jewish Chronicle
"This is a wonderful book, written with passion and minute scholarship combined. I could not put it down. It depresses, challenges, and reinterprets Holocaust history in the light of what the British and Americans did and thought." Times Educational Supplement
"This book is not only a first-rate history but also very timely. Indespensable background reading for anybody who wants to share in creating a multicultural society. It is not simple history: it is about people. But is committed history written by a master-historian." Jewish Socialist
* This is the first book to trace the impact of the Holocaust on ordinary people throughout Western democracies, from 1933 to the present.