The Human Impact on the Natural Environment: Past, Present, and Future, 6th Edition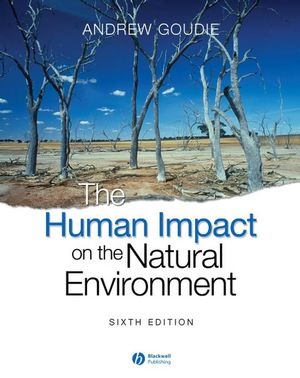 The Human Impact on the Natural Environment: Past, Present, and Future, 6th Edition
ISBN: 978-1-118-68815-1 April 2013 Wiley-Blackwell 376 Pages
Description
The new edition of this classic student text provides an up-to-date and comprehensive view of the major environmental issues facing the world today, and is an essential introduction to the past, present and future impact of humans on Earth.


Explores the impact of humans upon vegetation, animals, soils, water, landforms, and the atmosphere.

Updated extensively, with many new figures and up-to-date statistics.

Four completely new chapters explore the ways in which global climate change may have an impact on Earth in the future.

A new design makes the text even more accessible and easy to use.
Visit www.blackwellpublishing.com/humanimpact to access the artwork from the book.
Table of contents
Preface to the Sixth Edition.
Acknowledgments.
PART I: THE PAST AND PRESENT.
1. Introduction.
2. The Human Impact on Vegetation.
3. Human Influence on Animals.
4. The Human Impact on the Soil.
5. The Human Impact on the Waters.
6. Human Agency in Geomorphology.
7. The Human Impact on Climate and the Atmosphere.
PART II: THE FUTURE.
8. Introduction.
9. The Future: Coastal Environments.
10. The Future: Hydrological Impacts.
11. The Future: The Cryosphere.
12. The Future: Drylands.
13 Conclusion.
Glossary.
References.
Index.
Reviews
"The new edition of this student text provides an up-to-date and comprehensive view of the major environmental issues facing the world today and serves as an introduction to the past, present, and future impact of humans on Earth. Specifically, it explores the impact of humans on vegetation, animals, soils, water, landforms, and the atmosphere. Four completely new chapters explore how global climate change may impact Earth in the future."
Natural Hazards Observer <!--end-->
"The book is filled with new information and intriguing examples that Goudie has selected to illustrate in each of his well-organised chapters."
Environmental Geology


Praise for the fifth edition

"This is a splendid compendium of what we know and understand about environmental problems. The author is to be congratulated on a work that is suitable as a textbook or a supplementary reader for courses at all university levels." Quarterly Review of Biology

"A well-illustrated textbook, it is a brilliantly concise examination of just how much we are changing the world around us. A classic. Geography at its best." New Scientist

"For all those who are interested in how humans have and are changing the face of the Earth, The Human Impact has become something of a classic text ... Indeed, as a classic, it has an important part to play in colouring our perception of humans' relationship with the natural environment ... altogether readable, stimulating and instructive ... it is an essential textbook for all who are interested in human impacts on the environment." Scottish Geographical Journal
Features


new edition of a classic student text


provides an up-to-date and comprehensive view of the major environmental issues facing the world today- explores the impact of humans upon vegetation, animals, soils, water, landforms, and the atmosphere


an essential introduction to the past, present and future impact of humans on Earth


the new edition has been updated extensively, with many new figures and up-to-date statistics


4 completely new chapters explore the ways in which global climate change may have an impact on Earth in the future


a new design makes the text even more accessible and easy to use


essential reading for undergraduates in geography or environmental science, and anyone requiring a thorough overview of the impact of humans upon natural processes and systems