The Human Resources Software Handbook: Evaluating Technology Solutions for Your Organization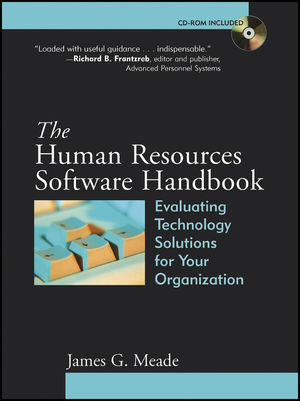 The Human Resources Software Handbook: Evaluating Technology Solutions for Your Organization
ISBN: 978-1-118-33633-5
Jan 2012, Pfeiffer
400 pages
Description
The Human Resources Software Handbook is the essential resource written for HR professionals with little or no background in information technology. This book will be your hands-on guide for answering the most important software selection questions including:
Is this software company a sound business enterprise?
Will this product solve real HR problems?
Does the product have any hidden costs?
Have those who have purchased this product been happy with the results?
List of Figures, Tables, and Exhibits.
CD-ROM Contents.
Acknowledgments.
Introduction.
PART ONE: Getting Started.
1. A Few Key Questions.
Do I Even Need HR Technology?
Where Do I Start?
Do I Have to Go Through a "Process" Here?
How Much Is the Process Going to Cost?
How Do I Deal with Vendors?
How Long Is All This Going to Take?
"But I Don't Know Anything About Technology".
What Should I Do First?
Conclusion.
2. Knowing the Trends.
Social and Economic Trends.
Outsourcing the HR Function.
HR as a "Strategic Partner".
From Human Resources to Human Capital Management.
HR Becoming More Technically Savvy.
The Internet Becoming an Everyday Tool.
Conclusion.
3. Previewing HR Software.
Checking Out Features of Low-End Products.
Seeing What Mid-Market Products Offer.
What to Expect from a Specialty Product.
Looking Over Standard Data Fields.
Considering Reports.
Finding Vendors.
Conclusion.
4. Working with Consultants.
A Few Cautions About Consultants.
General Reasons for Turning to Consultants.
When to Turn to a Consultant.
Finding a Consultant.
Conclusion.
PART TWO: Collecting Your Facts.
5 Do You Need a Needs Assessment?
Systematically Defining Needs.
Sample Report.
Conclusion.
6. The RFP: RIP?
What to Put into an RFP.
Ten Common Errors in RFPs.
Ten Useful Guidelines for an RFP.
The Argument for a Short RFP.
Why You May Not Need an RFP.
Conclusion.
7. Scripting the Demo.
Why to Script the Demo.
What to Cover.
Avoiding Pitfalls.
Checking Out a Vendor?s Script.
Checking Out a Generic Sample Script.
Conclusion.
8. "Word on the Street": References.
Finding a List of References.
The Kind of References to Look For.
The Kinds of Questions to Ask.
A Few Cautions About Talking with Users.
Conclusion.
PART THREE: Moving Toward Implementation.
9. Preparing and Using a Selection Matrix.
The Matrix and How to Create It.
How It?s Used, and By Whom.
Pitfalls of the Selection Matrix.
Sample Selection Matrixes.
Conclusion.
10. Negotiating the Agreement.
Why to Have a Contract.
Whom to Include in Negotiations.
Key Negotiating Points.
Getting Down to It: Negotiating Price.
What Else to Include.
A Few Gotchas.
Conclusion.
11. Selling to Management.
Don't Just Report; Sell.
Emphasize Benefits, Benefits, Benefits.
Present the Results of Your Research.
Lightly Make the Case for ROI.
Conclusion.
12. Planning Implementation.
Setting Up a Project Team.
Setting the Schedule.
Preparing Your Computer Systems.
Training HR and Users.
Aligning Your Business Processes.
Testing the System.
Rolling It Out.
Checking Out a Sample Implementation Plan.
Conclusion.
PART FOUR: Looking Over the Low-End Market.
13. Selecting a Small HRIS Package.
Price.
Vendor Longevity.
Support.
Web or Windows.
Rent or Purchase.
Client/Server, PC/LAN, or Standalone.
Ease of Use.
Flexibility.
Scalability.
Compatibility with Payroll.
Reference Accounts.
Functionality.
Conclusion.
14. The Big Three in Low-End Software.
Common Traits.
!Trak-It HR.
People-Trak.
Abra.
Conclusion.
15. Other Low-End Players.
HRIS from Payroll Vendors.
Smaller Versions from Mid-Market HRIS Providers.
Web-Based "Rental" Solutions.
"Isn?t That Number Missing a Zero?".
Conclusion.
PART FIVE: Reviewing the Rest of the Market.
16. Mid-Market Main Players.
iVantage.
Genesys Enterprise Series.
UltiPro.
Abra Enterprise.
hrWindows.
Other Mid-Market Providers.
Conclusion.
17. Exploring Specialty Software.
Time and Attendance.
Compensation Planning.
Succession Planning.
Performance Review.
Benefits Management.
Pre-Employment Screening.
Skills Management.
Employee Self-Service.
Other Specialized HR Needs.
Conclusion.
18. The E-Recruiting Revolution.
Applicant Tracking and Automated Recruiting.
Rise of E-Recruiting.
Conclusion.
19. The Exclusive High End.
Trends at the Top.
The Big Three.
Other Aspirants.
A Cautious Perspective.
Conclusion.
20. Closing Thoughts.
Ambitious Undertaking.
High Stakes.
Streamlined Selection Process.
Risks.
Ongoing Rewards.
Appendix: Software Products Profiled in the Book.
References.
About the Author.
Index.
How to Use the CD-ROM.