The IABC Handbook of Organizational Communication: A Guide to Internal Communication, Public Relations, Marketing and Leadership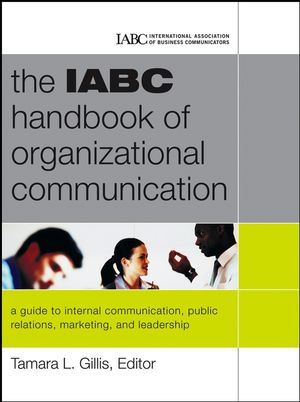 The IABC Handbook of Organizational Communication: A Guide to Internal Communication, Public Relations, Marketing and Leadership
ISBN: 978-0-787-98553-0 April 2006 Jossey-Bass 500 Pages
Download Product Flyer
Download Product Flyer
Download Product Flyer is to download PDF in new tab. This is a dummy description. Download Product Flyer is to download PDF in new tab. This is a dummy description. Download Product Flyer is to download PDF in new tab. This is a dummy description. Download Product Flyer is to download PDF in new tab. This is a dummy description.
Description
The IABC Handbook of Organizational Communication is the fourth edition of the best-selling resource that offers a comprehensive collection of practical knowledge and insights about effective corporate communication and its effect on organizational success. With contributions from the leading experts in organizational, business, and corporate communications, this invaluable resource examines each of the functional areas of organizational communication including internal communication, public relations, marketing, and communication strategy. This important book is written for communicators in organizations of all types—large and small, public and private, for profit and not for profit. The contributors demonstrate how these fields are changing and what the future holds. This edition includes illustrative case studies and information on new topics such as globalization and crosscultural communication, new technologies and employment patterns, corporate responsibility, research measurement and ROI, and the virtual corporation.
Table of contents
Foreword.
Preface.
About the Authors.
PART ONE: BUSINESS COMMUNICATION IN THE EVOLVING CORPORATION.
1 Characteristics of Excellent Communication (James E. Grunig, Larissa A. Grunig).
2 The Corporate Communicator: A Senior-Level Strategist (Nick Durutta).
3 Organizational Culture (Paul M. Sanchez).
4 The Communication of Trust (Pamela Shockley-Zalabak, Kathleen Ellis).
5 Communication Ethics: Sorting Out What Is Right and Wrong (Mark P. McElreath).
PART TWO: MANAGING COMMUNICATION.
6 Strategic Approaches to Managing the Communications Function (Diane M. Gayeski).
7 Strategic Planning: Timeless Wisdom Still Shapes Successful Communication Programs (Lester R. Potter).
8 Aligning Internal Employee Communication with Business Strategy (Ayelet Baron).
9 Issues Management: Linking Business and Communication Planning (George McGrath).
10 Change Communication: Twelve Questions to Ask Before Communicating Change (Carol Kinsey Goman).
11 Current Realities in Crisis Communication (Elpi O. Cuna Jr.).
12 Corporate Social Responsibility (Adine Mees).
13 Communicating for a Merger or an Acquisition (Patricia T. Whalen).
14 Managing and Communicating Cultural Diversity (Jenifer Armand-Delille).
15 Communication Counsel in Corporate Communication: The Care and Feeding of Leadership (Mark Schumann).
PART THREE: INTERNAL COMMUNICATION.
16 Internal Communication (Brad Whitworth).
17 Manager-Employee Communication (Hilary Scarlett).
18 Throwing Rocks at the Corporate Rhinoceros: The Challenges of Employee Engagement (Roger D'Aprix).
19 Communicating Major Change Within the Organization (Rodney Gray, Gerard Castles).
20 Internal Communication Media (Tamara L. Gillis).
21 Internal Branding: Employer Branding (R. Alan Crozier).
PART FOUR: PUBLIC RELATIONS.
22 Public Relations Research and Planning (Don W. Stacks).
23 The CEO-Leader as Relationship Builder: Convinced But Unengaged (J. David Pincus, Stephen C. Wood).
24 Successful Media Relations (Brenda Siler).
25 Investor Relations and Financial Communication (Karen Vahouny).
26 Government Relations (Bill Carney).
27 Taking a Leadership Position in the Community: It Is About More Than Writing a Check (Mary Ann McCauley).
28 Public Relations and Ethical Conduct (Meryl David, Todd T. Hattori).
29 Measuring Public Relations Programming (Mark Weiner).
PART FIVE: MARKETING COMMUNICATION.
30 Marketing Communication Today (Lorenzo Sierra).
31 Branding and Brand Management: Integration and Innovation (Paul Mlodzik).
32 Building and Sustaining a Dynamic Corporate Reputation (Alison Rankin Frost).
33 Communication for Customer Satisfaction and Loyalty (Jeff Schmidt).
34 Measuring Marketing Communication (Merry Elrick).
PART SIX: THE FUTURE OF BUSINESS COMMUNICATION.
35 The Future of Measurement in Corporate Communication (Vicci Rodgers).
36 Navigating the Infinite Nature of Knowledge (Kellie Garrett).
37 New Values for a New Workplace (Christopher Nevill)
38 The Future of Integrated Communication (Jane Sparrow).
39 International Communication (Sylvie Testard-Ramírez).
40 The Impact of Technology on Corporate Communication (Shel Holtz).
41 The Future of Business Communication (Katherine Woodall).
Index.
Features
There will be an accompanying online Instructor's Guide that will provide practice chapter exercises, case studies, assessments, lesson plans, references, and other instructional materials.