The ICCA Handbook on Corporate Social Responsibility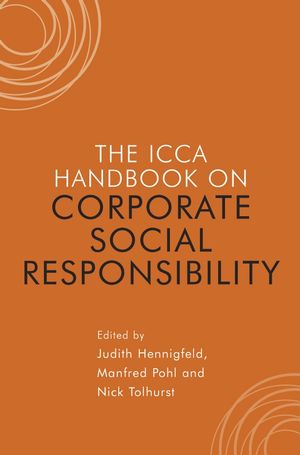 The ICCA Handbook on Corporate Social Responsibility
ISBN: 978-0-470-05787-2
Oct 2006
456 pages
Description
The world's leading companies have realized that success in the long term requires them not only to make an economic profit, but also to contribute to the societies in which they operate. As a result Corporate Social Responsibility (CSR) has moved to the top of the business agenda. Yet questions remain. Sceptics ask whether, provided an organization's activities conform to legislation, there is a business case for going beyond this.


This unique Handbook from the Institute for Corporate Culture Affairs (ICCA) offers an invaluable combination of lessons learned and best practice for the future. It explores the general concept of CSR, investigates approaches to implementation and provides first-hand insights from well-known CEOs, academics and organizations. Above all it stresses the fact that CSR must spring from a corporate culture, implying values and norms which in themselves endorse sustainable ways of doing business. Without this shift of emphasis from shareholder returns to sustainable value, CSR can never be more than a diversion.


Featuring contributions from Ben Verwaayen (CEO, BT Group), Fujio Mitarai (President and CEO, Canon), Sir Geoffrey Chandler (Founder, Amnesty International Business Group) and Yoshio Shirai (Managing Director, Toyota), as well as experiences from inside leading organizations like Volkswagen, Credit Suisse, The Body Shop and the UK Government, The ICCA Handbook of Corporate Social Responsibility showcases CEOs and companies that have seized the opportunities offered by CSR. It is intended to stimulate further exchange and development in the field. For now, it captures the state of the CSR art.

The Board of Editors who have worked on this book include Katja Böhmer, Aron Ghebremariam, Judith Hennigfeld, Sandra S. Huble, Dirk Matten, Manfred Pohl, Nick Tolhurst & Wayne Visser
List of Contributors.
Foreword (Judith Hennigfeld, Manfred Pohl and Nick Tolhurst).
Acknowledgements.
PART I: INTRODUCTION AND BACKGROUND TO CSR.
1. Why Do Companies Engage in Corporate Social Responsibility? Background, Reasons and Basic Concepts (Dirk Matten).
2. Corporate Culture and CSR – How They Interrelate and Consequences for Successful Implementation (Manfred Pohl).
3. CSR – The Way Ahead or a Cul de Sac? (Sir Geoffrey Chandler).
4. Why all Companies should Address Human Rights – and how the Business & Human Rights Resource Centre can help (Christopher Avery, Annabel Short and Gregory Tzeutschler Regaignon).
5. The British CSR Strategy: How a Government Supports the Good Work (Margaret Hodge).
PART II: SHARING GOOD PRACTICES AND LESSONS LEARNED.
6. Transnational Corporations and the Global Mindset (Walther Ch. Zimmerli and Markus Holzinger).
7. Corporate Social Responsibility: Past and Present Practice at National Bank of Greece (Takis Arapoglou).
8. The Reinhard Mohn Fellowship: Not-For-Profit and Business Learning from Each Other (Liz Mohn).
9. CSR Implementation – How the Bertelsmann Foundation Supports the Implementation of Corporate Responsibility in Companies (Birgit Riess).
10. Social Responsibility – a Sustainable Strategy for Business Success or Making a Profit with Non-profit (Peter Walter).
11. The Body Shop: Living the Dream (Jan Oosterwijk).
12. Translating Corporate Social Responsibility Policy into Practice in BT (Ben Verwaayen).
13. The Business of Empowering Women: Innovative Strategies for Promoting Social Change (Barbara Krumsiek and M. Charito Kruvant).
14. Corporate Philosophy – Seeking Harmony between People, Society and the Global Environment and Creating a Prosperous Society through Making Automobiles (Yoshio Shirai).
15. The Kyosei Philosophy and CSR (Fujio Mitarai).
16. A Decade of Environmental and Sustainability Reporting at Credit Suisse Group (H.-U. Doerig).
17. Microfinance as Profitable Good Practice (Rolf-E. Breuer).
18. Business Ethics as a Management Instrument – Vision, Values and Code of Conduct at Henkel (Ulrich Lehner).
19. A Company's Social Side (Markus Holzinger, Klaus Richter and Dirko Thomsen).
20. In the Driver's Seat: Implementing Sustainable Management Around the Globe (Katja Suhr and Andreas von Schumann).
21. What Gets Measured Gets Done (Anita Roper).
PART III: RANKING AND AUDITING.
22. The 'Good Company Ranking' of the Manager Magazin (Arno Balzer and Michael Kr¨oher).
23. The Caux Round Table: Taking CSR from Aspiration to Action (Stephen B. Young and Frank Straub).
Index.
""The immediate appeal of this book is that it includes some high profile contributors…makes for stimulating reading…"" (Ethical Performance, January 2007)