The ICE Conditions of Contract, 7th Edition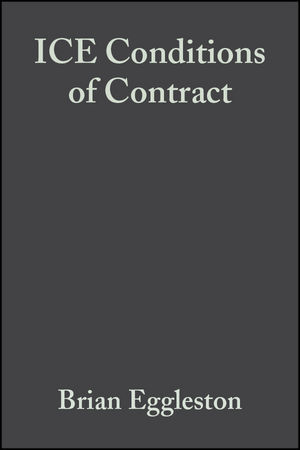 The ICE Conditions of Contract, 7th Edition
ISBN: 978-0-470-68008-7 April 2008 Wiley-Blackwell 432 Pages
Description
The ICE Conditions continues to be the dominant form of contract for civil engineering, despite the growing importance of the New Engineering Contract.
The Seventh Edition of the ICE Conditions, published in 1999, introduced a number of changes, including:
incorporating some of the concepts of the Latham Report
amending certain provisions of the Sixth Edition which had attracted criticism
rectifying conspicuous omissions from the text of earlier editions of the contract
correcting small errors and faults from the previous edition
modernising certain provisions and terms
Brian Eggleston, whose previous book on the ICE Conditions was described as 'likely to become the authoritative reference source for the Sixth Edition', examines the contract clause by clause from a practical and legal viewpoint. There is extensive coverage of case law.
Written by an experienced civil engineer and recognized authority on construction contracts, this book is an essential guide.
Preface; Notes on the text; Introduction; Definitions, interpretation and notices; The engineer and engineer's representative; Assignment and subcontracting; Contract documents; Contractor's obligations/responsibilities for design and construction; Form of Agreement and performance security; Site conditions and sufficiency of tender; Instructions and impossibility; Programmes and methods of construction; Supervision, setting-out and safety; Care of the works and insurances; Statutes, street works, facilities and fossils; Materials and workmanship; Suspension of work; Possession of the site, commencement and rate of progress; Extensions of time and liquidated damages for delay; Completion; Outstanding works and defects; Variations; Claims and additional payments; Property and materials; Measurement of the works; Provisional sums and prime cost items; Nominated subcontractors; Certificates and payments; Defaults and determination; Settlement of disputes; Miscellaneous provisions; Table of cases; Index
'Brian Eggleston has produced a cornucopia of material which will be invaluable to anyone researching a point under the ICE Conditions' -- Professor John Uff QC
"He has displayed a very sound understanding of all legal principles....the explanation is easily digestible...this is a readable book of a very high standard and the practical and legal knowledge contained are a must for all those involved in the ICE Conditions" -- Arbitration

'Brian Eggleston once again hits the mark with this latest analysis of the ICE Standard Form. His easy read is a must for every member of the construction team.' -- Tony Bingham
* Substantially rewritten to take account of revisions to the contract following the Construction Act, as well as new decisions of the courts
* Deals with every clause of the contract
* 'Brian Eggleston has produced a cornucopia of material which will be invaluable to anyone researching a point under the ICE Conditions' - Professor John Uff QC
* Author highly regarded as a contracts consultant and author of several leading books on the subject.
* The second edition of the title first published as The ICE Conditions Sixth Edition