The IMS: IP Multimedia Concepts and Services, 2nd Edition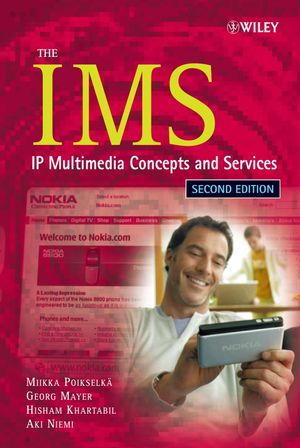 The IMS: IP Multimedia Concepts and Services, 2nd Edition
ISBN: 978-0-470-03183-4
Jan 2007
466 pages
Description
The IMS: IP Multimedia Concepts and Services in the Mobile Domain, Second Edition, builds on the success of the previous best-selling edition, providing comprehensive coverage of IMS –  its concepts, architecture, protocols and functionalities with a wealth of new and updated material.

Mobile telephony with the current technology has been hugely successful and demonstrates the immense value of communicating with peers while being mobile, and with increasingly available smarter multimedia terminals, the communication experience will be something more than just exchanging voice. These multimedia terminals need IP multimedia networks. Hence the Third Generation Partnership Project (3GPP) has developed a standard for SIP-based IP multimedia service machinery known as 'The IMS' (IP Multimedia Subsystem). This completely up-to-date and informative guide explains everything you need to know about it...

Key features of the Second Edition include:
Two new chapters on push-to-talk over cellular and group management.
Additional new material includes: fixed and mobile convergence, interworking between IPv4 and IPv6 in the IMS, combined circuit-switched and IMS services (combinational services), IMS security and alternative session establishment procedures.
More coverage of the benefits of IMS, particularly with regard to its role in fixed-mobile convergence.
Special emphasis on services, featuring more detailed descriptions of presence, messaging, group management and push-to-talk over cellular (conferencing).
Updates on Third Generation Partnership Project Agreement (3GPP) Release 6 level.
New examples and case studies, including a variety of scenarios, how to handle multiple terminals and end-user preferences.
Written in a manner that allows readers to choose the level of knowledge and understanding they need to gain about the IMS, this volume will have instant appeal to a wide ranging audience including marketing managers, research and development engineers, network engineers, developes, test engineers and university students.
Foreword by Petri Pöyhönen.
Foreword by Alan Duric.
Preface.
Acknowledgements.
List of figures.
List of tables
PART I: IMS ARCHITECTURE AND CONCEPTS.
1. Introduction.
2. IP Multimedia Subsystem architecture.
3. IMS concepts.
PART II: SERVICES.
4. Presence.
5. Messaging.
6. Push to talk Over Cellular.
7. Conferencing.
8. Group management.
PART III: DETAILED PROCEDURES.
9. Introduction to detailed procedures.
10. An example IMS registration.
11. An example IMS session.
PART IV: PROTOCOLS.
12. SIP.
13. SDP.
14. The Offer/Answer Model with SDP.
15. RTP.
16. DNS.
17. GPRS.
18. TLS.
19. Diameter.
20. MEGACO.
21. COPS.
22. IPsec.
23. Signalling Compression.
24. DHCPv6.
25. XCAP.
26. Common Policy.
List ofabbreviations.
Index.
"The excellent presentation of content will make this book appeal to a wide audience…an invaluable guide to IMS…" (Computing Reviews.com, August 11, 2006)