The ISO 9000 Quality System: Applications in Food and Technology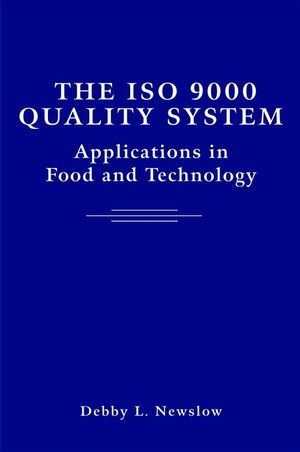 The ISO 9000 Quality System: Applications in Food and Technology
ISBN: 978-0-471-36913-4
Feb 2001
256 pages
Description
Author is a certified Quality Assurance Lead Auditor who has worked with more than 100 companies seeking ISO 9000 certification.
* One of the only books on ISO 9000 compliance written exclusively for the food industry.
* Examples are based on real-world cases (although company names and other identifying details are not included to protect privacy). These examples can be invaluable to food companies who want to avoid potential pitfalls.
* Relates ISO 9000 to other quality and safety assurance management systems.
Preface.

Acknowledgments.

Introduction.

The Certification Effort.

ISO 9001:2000--The Revision.

Getting Started.

Quality Management System (ISO 9001:2000 Section 4.0).

Management Responsibility (ISO 9001:2000 Section 5.0).

Resource Management (ISO 9001:2000 Section 6.0).

Product Realization (ISO 9001:2000 Section 7.0).

Measurement and Analysis (ISO 9001:2000 Section 8.0).

Certification.

Auditors Are Human.

ISO 9000: The "Envelope" for the Food Industry (HACCP, GMPs, TQM, Malcolm Baldridge, and More).

Common Questions, Concerns, and Pitfalls.

Summary and Conclusions.

References.

Index.
"...a must-read for anyone in the food industry considering the pursuit of certification." (Food Quality Magazine, 2001)
"A technical reference...provides guidance and assistance in applying the requirements of the international standard ISO 9001 to food and food-related industries." (SciTech Book News, Vol. 25, No. 4, December 2001)
"...a necessary and essential guidebook..." (Food, Vol.46, No.1, 2002)
"...a useful 'travel guide' towards ISO 9001 compliance...a recommended addition..." (Journal of Agricultural & Food Information, Vol. 4, No. 2, 2002)