The IT Girl's Guide to Blogging with Moxie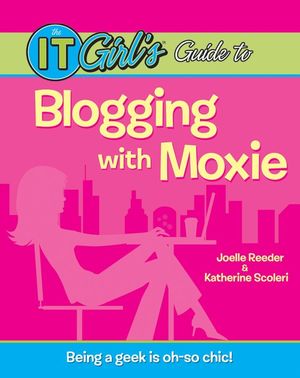 The IT Girl's Guide to Blogging with Moxie
ISBN: 978-0-470-22618-6
Dec 2007
288 pages
Product not available for purchase
Description
Want to break into blogging but don't know where to start? Dynamic duo Joelle Reeder and Katherine Scoleri of The Moxie GirlsTM show you how to start your first blog, polish your prose, get involved in blogging communities, make sense of RSS feeds, podcasts, photos and more — all with fun, humor and attitude!

Inside you will find the need-to-know info to get your blog noticed: How to choose the right blogging platform or content management tool, select a web host, dress up your blog, manage blog content and keep your privates private! When you are ready for more, The Moxie Girls will treat you to insider dish on blog etiquette, analyzing blog traffic, blogging for business, creating podcasts and adding bling to your blog with plugins, add-ons and more. Throw in the refreshing cocktails, beauty tips and gossip with the Girls at the end of each chapter and you'll be Blogging with Moxie in no time. So, what are you waiting for?

The IT Girl's Guide to Blogging With Moxie is packed with the content you need wrapped in casual, engaging dialog and a cheeky, bite-sized format.
Bargain-blogging with tools such as WordPress®, TypePad®, and Vox
Choosing a content management system like Expression Engine or Movable Type
Managing blog content, using tags and moderating comments
Selecting a professional designer and choosing from off-the-rack templates
An introduction to podcasting and videocasting
Finding, joining and managing blog communities
Protecting your online identity
Using a blog to better your business
Introduction.
PART I: Learn IT.
Chapter 1: Blogging Basics: Break into Blogging without Breaking a Nail.
Chapter 2: Hot Topics: Become Part of the Buzz.12
Chapter 3: Group/Community Blogging: Playing Well with Others.
Chapter 4: Business and Blogging: Putting Your Talents to Use.
PART II: Live IT.
Chapter 5: Blogging Tools: Bargain Blogging Out of the Box.
Chapter 6: Hosting Your Own Website: You Say Who, When, and How Much!
Chapter 7: Dressing Up Your New Blog: Feel Pretty, Oh So Pretty!
Chapter 8: Your Online Identity: Like Finding Your Signature Red Lipstick.
Chapter 9: Comments and Trackbacks: Like Champagne, Conversation Is Best Kept Flowing.
Chapter 10: Tags and Tagging: Your Tag Is Showing.
Chapter 11: RSS, Atom, and XML: Feed Your Blog Addiction.
Chapter 12: Photos and Photoblogging: Be Part of the Paparazzi.
Chapter 13: Podcasts Killed the Radio Star!
PART III: Love IT.
Chapter 14: Privacy and Protection: Be Mysterious!
Chapter 15: Popularity and Etiquette: Be the Belle of the Blogs.
Chapter 16: Traffic: Throw a Blogging Block Party.
Chapter 17: Blog Advertising: Support Your Nonfat Vanilla Latte Habit.
Chapter 18: Blog Frosting: Make Your Blog Sparkle with a Little Bling.
Glossary.
Epilogue: See You in the Blogosphere!
Index.