The Idea of English Ethnicity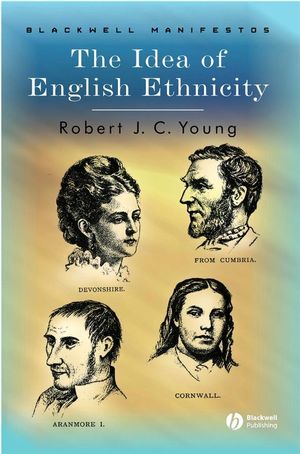 The Idea of English Ethnicity
ISBN: 978-1-405-10129-5 December 2007 Wiley-Blackwell 312 Pages
Description
In this major contribution to debates about English identity, leading theorist Robert J.C. Young argues that Englishness was never really about England at all. In the nineteenth century, it was rather developed as a form of long-distance identity for the English diaspora around the world. Young shows how the effects of this continue to reverberate today, nationally and globally.



Written by an internationally established theorist, whose work has been translated into 20 languages

Shows how potent the idea of Englishness is

Helps to explain why the UK continues to act as if it has a 'special relationship' to the US

Helps to explain why the UK is so successfully multicultural

Part of the prestigious Blackwell Manifestos series
Preface.
Introduction: Exodus.
1. Saxonism.
2. 'New Theory of Race: Saxon v. Celt'.
3. Moral and Philosophical Anatomy.
4. The Times vs. the Celts.
5. Matthew Arnold's Critique of 'Englishism'.
6. 'A Vaster England': The Anglo-Saxon.
7. 'England Round the World'.
8. Englishness: England and Nowhere.
Notes.
Index
"Nonetheless, The Idea of English Ethnicity remains an eloquent and powerfully-argued analysis of Victorian ideas of Englishness and race. Perhaps the book's greatest achievement is the extent to which it succeeds, despite the uncertainties and ambiguities surrounding its central thesis, in convincing the reader that the Victorians did indeed lay the foundations for a 'continuing tradition of flexibility and comprehension' that contributed to the subsequent development of 'a tolerant multiracial society' (239)." (Oxford Journal, 1 March 2011)
"In The Idea of English Ethnicity Young is about his best largely because it is focused and his conclusions are uncluttered." (Multiculturalism, October 2010)"For the Brontë reader, the topic of ethnicity remains an intriguing one. [With] Young's suggestion that Englishness is not about race but is a translatable quality, we can identify the sisters as English. … Young's book gives us another opportunity to consider how English the Brontë sisters really were." (Brontë Studies, November 2009)
"A well-written, superbly readable and ... well structured presentation of the concepts of English ethnicity in the 19th Century. ... A worthwhile starting point." [Translated from German] (Humanities - Sozial- Und Kulturgeschichte, May 2009)
"Robert J. C. Young's The Idea of English Ethnicity has never been more needed. In this compelling, impeccably researched, and eminently readable study, Young demonstrates that the singular and pure concept of English identity whose loss is now so widely reported never really existed in the first place. I cannot remember the last time that I read such a highly original book on what might seem like a relatively well-trammeled topic. Victorian Englishness and racial ideology have been the subject of innumerable studies over the past decades, but none that I can think of have the freshness, innovation, and authority of this book. The Idea of English Ethnicity can and should change the way we think about Englishness and Empire alike. Young's prose is as lucid and coherent as his arguments are innovative. Writing in a manner that is unfortunately all too rare in the academy these days, he announces his thesis early and signposts it frequently, deftly linking the new material to the larger systems of ideas on which the book is premised. The result is a highly intelligent book on an important subject that can be enjoyed by readers both inside and outside of the academy." (Journal of British Studies, October 2008)
"From the vantage point of cultural studies, Young offers his interpretation of 'English ethnicity.' Young argues that a shift occurred from viewing English people as pure Saxons to Anglo-Saxons of 'mixed' blood, a definition that encompassed English speakers in the colonies and former colonies as well immigrants to England. Recommended." (Choice Reviews, December 2008)
"A contribution to the literature of the continuing English identity crisis." (Times Literary Supplement, October 2008)
"A major contribution to debates about English identity ... shows how potent the idea of Englishness is." (SirReadALot.org)


A major contribution to debates about English identity

Written by an internationally established theorist, whose work has been translated into 20 languages

Argues that English identity was invented not for the English but those in English speaking countries round the world

Shows how potent the idea of Englishness is

Helps to explain why the UK continues to act as if it has a 'special relationship' to the US

Helps to explain why the UK is so successfully multicultural

Part of the prestigious Blackwell Manifestos series