The Impact of Technology on Faculty Development, Life, and Work: New Directions for Teaching and Learning, Number 76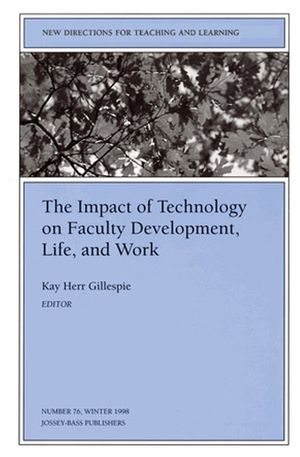 The Impact of Technology on Faculty Development, Life, and Work: New Directions for Teaching and Learning, Number 76
ISBN: 978-0-787-94280-9
Jan 1999, Jossey-Bass
98 pages
Description
A critical and global issue in higher education today is the implementation of technology in our individual, institutional, and collective settings for the enhancement of teaching and learning in the widest sense. The scope of the issue is inclusive not only of undergraduate and graduate teaching and learning within the classroom and beyond, but also of the research and service or outreach components of our mission-in short, of everything we do in higher education.

The foundation assumptions for this exploration of issues relating to the impact of technology are that (1) technology, faculty members' lives and work, and faculty development are inextricably bound together; (2) learning by doing is effective learning; (3) the rapidity of technological change and its importance for education will neither diminish nor disappear; and (4) it is imperative for us to reflect and then to act in increasingly vigorous ways on the possibilities and realities of technological change. We can do so positively and with enthusiasm about improving the quality of all that we have been seeking to do for centuries-structuring ever more effectively the formalized education and subsequent enlightment of those who come after us and of ourselves in the process.

These thoughts are offered as an invitation to readers to reflect, to affirm or redefine thoughts still forming, and finally to act in the effort we are all making to incorporate exciting new technological capabilities into our changing world of higher education.

This is the 76th issue of the quarterly journal New Directions for Teaching and Learning.
Technology's Impact on Faculty Life and Wrok (R. Baldwin).
Brave New World? The Challenge of Technology to Time-Honored Pedagogies and Traditional Structures (A. Gandolfo).
Instructional Design for the New Technologies (F. Gillespie).
Community On-Line: New Professional Environments for Higher Education (T. Di Petta).
Overcoming Obstacles Through Use: A Case Study (K. Carey & S. Dorn).
Using Technology in Faculty Develoment: Practical Examples (K. Gillespie with contributors).