The Industrial Revolution in Britain, Volume I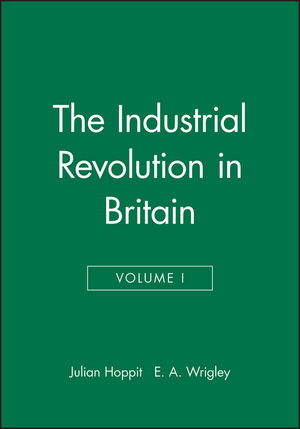 The Industrial Revolution in Britain, Volume I
ISBN: 978-0-631-18071-5 April 1994 Wiley-Blackwell 440 Pages
Description
Volumes 2 and 3 of the Industrial Revolutionseleven part set (Industrial Revolution in Britain vol I and II) present over thirty of the articles which have best illuminated Britain's Industrial revolution, and cover four main areas: the concept of the Industrial Revolution, and the central themes of land, labour and capital. They provide a way of exploring historians' changing approaches to the first Industrial Revolution. A substantial introduction sets the articles into their conceptual, evidential and histiographical context and directs readers to recent work.
General editors' introduction. R. A. Church and E. A. Wrigley.
Introduction. Julian Hoppit and E.A. Wrigley.
VOLUME 2.
Part I: Definitions, Phasing, Scale and Nature:.
1. Gentlemanly capitalism and British expansion overseas. The old colonial system, 1688-1850: P. J. Cain and A. G. Hopkins.
2. The present and the past in the English industrial revolution, 1880-1980: D. Cannadine.
3. Industrial growth and industrial revolutions: D. C. Coleman.
4. British Economic Growth, 1700-1831: a review of the evidence: N. F. R. Crafts.
5. Capital formation in the industrial revolution: F.Crouzet.
6.The implications of early national income estimates for the measurement of long-term economic growth in the United Kingdom: P. Deane.
7. Industrial revolution: H. Heaton.
Part II: Capital, Credit, Investment, Entrepreneurship, Taxation:.
8. Capital accumulation and the industrial revolution: C. H.Feinstein.
9. Taxation in Britain and France, 1715-1810: P. Mathias and P. K. O'Brien.
10. Recent trends in the accumulation of capital: M. M. Postan.
11. English Prices and Public Finance, 1660-1822: E. B. Schumpeter.
12. The entrepreneur in the industrial revolution in Britain: C. Wilson.
Part III: Labour, Demography, Labour Supply, Standard of Living, Factory Discipline, Social Structure:.
13. Enclosure and labour supply in the industrial revolution: J. D. Chambers.
14. The Demographic Revolution in England: a re-examination: J. A. Goldstone.
15. The Rising Standard of living in England, 1800-1850: R. M. Hartwell.
16. The British standard of living, 1790-1850.
17. Medical evidence related to English population changes in the eighteenth century: T. McKeown and R. G. Brown.
18. Time, work discipline, and industrial capitalism: E. P. Thomson.
19. The growth of population in eighteenth-century England: a conundrum resolved.
Acknowledgements.
VOLUME 3. .
Part IV: Land: Agriculture and Raw Material Supply: .
20. The growth of labor productivity in early modern English Agriculture: R. C. Allen.
21. Harvest technology and labour supply in Britain, 1790-1870: E. J. T. Collins.
22. Agriculture and economic growth in England, 1660-1750: agricultural change: E. L Jones.
23. The second agricultural revolution, 1815-1880: F. M. L. Thompson.
24. The supply of raw materials in the industrial revolution: E. A. Wrigley.
Part V: Technology, Invention, Innovation, Education:.
25. Technological change and industrial development in western Europe, 1750-1914: D. S. Landes.
26. Who unbound Prometheus? Science and technical change, 1600-1800: P. Mathias.
27. Science and Industry in the late eighteenth century: A. E. Musson and E. Robinson.
28. Workshop of the world; steam power and hand technology in mid-Victorian Britain.
29. Nineteenth-century horse sense: F. M. L. Thompson.
30. The home market and economic growth in England, 1750-1780: D. E. C. Eversley.
31. Demand as a factor in the industrial revolution: E. Gilboy.
32. Josiah Wedgwood: an eighteenth century entrepreneur in salesmanship and marketing techniques: N. McKendrick.
33. Demand vs Supply in the industrial revolution: J. Mokyr.
34. Business cycles, harvests, and politics, 1790-1850: W. W. Rostow.
Acknowledgements.