The Infectious Diseases Manual, 2nd Edition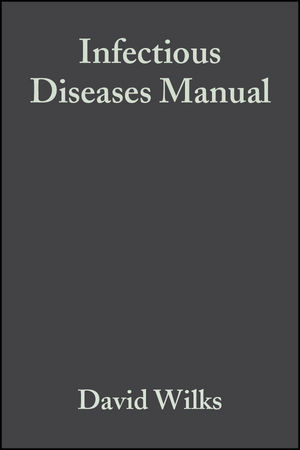 The Infectious Diseases Manual, 2nd Edition
ISBN: 978-0-632-06417-5 June 2003 Wiley-Blackwell 440 Pages
Description
The Infectious Diseases Manual is a concise and up-to-date guide to infectious diseases, medical microbiology and antibiotic prescribing
"I have no hesitation in recommending this book to practitioners of all grades."
Journal of Hospital Infection

".....a valuable companion.......should not be missing in any medical library."
Infection

"...... an excellent and extremely portable reference text..."
Journal of Medical Microbiology

WHY BUY THIS BOOK?



Invaluable source of reference for day-to-day clinical use


Integrated information about clinical infectious diseases, microbiology and antibiotic prescribing


Clear and systematic layout using a standard format for each section allowing rapid access to key information
Section I: Introduction.
1. Introduction.
Section II: Clinical Infectious Diseases.
2. Upper respiratory tract infections.
3. Lower respiratory tract infections.
4. Mycobacteria and mycobacterial infections.
5. Cardiac infections.
6. Gastrointestinal infections.
7. Hepatitis.
8. Urinary tract infection (UTI).
9. Gynecological and obstetric infections,.
10. Sexually transmitted diseases (STDs).
11. CNS infections.
12. Eye infections.
13. Skin infections.
14. Bone and joint infections.
15. Paediatric infections.
16. Human immune deficiency virus (HIV).
17. Infections in the immunocompromised host.
18. Fever.
19. Septic Shock.
Section III: Tropical and Travel Medicine.
20. Pre-travel advice.
21. Tropical medicine and the returning traveler.
22. Protozoa.
23. Helminths.
Section IV: Microbiology.
24. Staphylococci.
25. Streptococci and their relatives.
26. Aerobic Gram-positive rods.
27. Coliforms (syn. enterobacteria, Enterobacteriaceae).
28. Vibrios.
29. Campylobacters.
30. Pseudomonads.
31. Fastidious Gram-negative organism.
32. Anaerobes.
33. Spirochaetes.
34. Mycoplasmas, Chlamydias and rickettsias.
35. Virology.
36. Fungi.
Section V: Antibiotic Therapy.
37. Antibiotics: Theory, usage and abuse.
38. Antibiotics: Classification and dosing guidelines.
Appendix 1: Bioterrorism agents.
Appendix 2: Immunization schedule.
Index.
"In short, this book is a valuable companion for both the medical student and the practitioner and clinician interested in infectious diseases. Its size and well defined structure make it especially suitable for everyday use. The Infectious Disease Manual is an interesting addition to standard textbooks on this topic, and should not be missing in any medical library."
Infection

"The authors are to be congratulated and I hope that the book gains an appreciative audience."
Journal of Hospital Infection
"I have no hesitation in recommending this book to practitioners of all grades."
Journal of Hospital Infection
"Overall this is an excellent and extremely portable reference text in infectious disease. It is crammed full of well presented information and would be a useful addition to the bookshelves of Accident and Emergency departments, general practice surgeries and microbiology laboratories. I am also certain it will find its way into the white coat pockets of many aspiring physicians."
Journal of Medical Microbiology
* Integrates information about clinical infectious diseases, microbiology and antibiotic prescribing
* Updated sections on rapidly developing areas, e.g. HIV infection, antiviral drugs and antibiotics
* Clear and systematic layout using a standard format for each section allowing reader rapid access to information
* Outlines the safe prescribing of appropriate antimicrobial therapy
* Extensively cross-referenced throughout to give a detailed and comprehensive account of all clinically important infections