The Influence of Race and Racial Identity in Psychotherapy: Toward a Racially Inclusive Model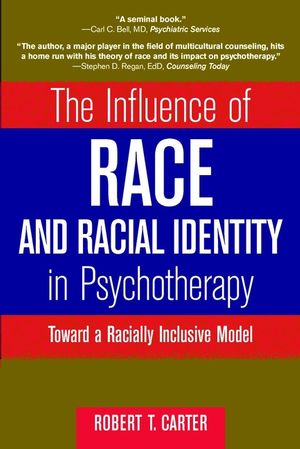 The Influence of Race and Racial Identity in Psychotherapy: Toward a Racially Inclusive Model
ISBN: 978-0-471-24533-9 February 1998 312 Pages
Description
A revolutionary theory, a clinical watershed, a masterful text

The Influence of Race and Racial Identity in Psychotherapy, Robert T. Carter changes the course of a century of psychological theory, practice, and education. He debunks the traditional belief that race has a marginal impact on personality development and, with compelling empirical evidence, demonstrates that race is the defining factor above other experiences of living in the United States and a crucial ingredient in the therapeutic process.

Carter presents models of racial identity for all racial groups and offers numerous case studies of various psychosocial resolutions within racial groups. He constructs the first racially inclusive model of psychotherapy--a rigorous conceptual framework that affords clinicians a deeper awareness of how racial issues affect their dealings with patients--and creates a means of integrating that knowledge into their practices.

The Influence of Race and Racial Identity in Psychotherapy:
* Defines the decisive role of racial identity in personality development
* Presents a racially inclusive model of psychotherapy
* Describes how this model is applied in a clinical context
* Proposes new counselor training programs based on this model.


This immensely valuable text helps students in multicultural counseling and psychotherapy develop an awareness of their own levels of racial identity as well as those of their patients. For practicing therapists, it opens new vistas in the therapeutic process and provides new avenues through which to better understand and serve their patients.
Table of contents
WHAT DO WE KNOW?

THE PSYCHOTHERAPY LITERATURE.

Race in Psychological Theory and Practice.

Overview of the Social and Historical Basis of Beliefs About Racein Psychotherapy.

Psychotherapy with Visible Racial/Ethnic Groups: The CulturalDifference Paradigm.

WHERE DO WE GO?

THEORETICAL FRAMEWORKS.

Race and Identity Development.

Visible Racial/Ethnic Identity Theories.

White Racial Identity.

Biracial Identity and Questions and Concerns About Racial IdentityStatus Development.

Race and Psychotherapy: A Process Model.

HOW DO WE KNOW?

RESEARCH EVIDENCE.

Racial Identity and Psychosocial Correlates.

Does Race or Racial Identity Influence the Therapy Process?

Relationship Types: An Examination of Qualitative Aspects ofTherapeutic Process and Outcome.

Case Studies: Evidence of Race in Psychotherapy.

WHAT DO WE DO WITH RACE?

CLINICAL APPLICATIONS.

Race and Psychotherapy: Clinical Applications in a SocioculturalContext.

Assessing Race Using the Racially Inclusive Model in ClinicalTreatment.

Race and Psychotherapy: Training Applications.

A Call to the Mental Health Profession.

Appendix.

References.

Indexes.