The Inner Game of Investing: Access the Power of Your Investment Personality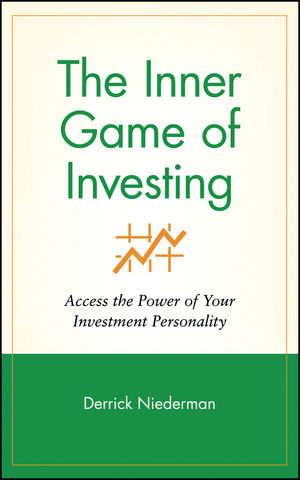 The Inner Game of Investing: Access the Power of Your Investment Personality
ISBN: 978-0-471-31479-0 April 1999 198 Pages
Description
Unlike other investment books that dole out one brand of advice toa potentially diverse readership, this unique book guides you toyour own best personal strategy by showing you what types of stocksfit your individual style. Written in a witty and engaging style bysecurities analyst and long-time financial columnist DerrickNiederman, The Inner Game of Investing reveals the Seven StockMarket Personalities: The Bargain Hunter, The Visionary, TheContrarian, The Sentimentalist, The Skeptic, The Trader, and TheAdventurist. You will be amazed to see how your own psychologicalattributes and predispositions interact with the market and howthey may be blinding you to both habitual mistakes and goldenopportunities.

Niederman's invaluable insights extend into other aspects ofinvesting, including widely held, but often misguided beliefs aboutthe irrationality and efficiency of the market, the psychologicalnuances of dealing with market professionals, and the generalpsychology of analyzing stocks.

The Inner Game of Investing shines a light into areas of yourpersonal investment process. This is one book that could change theway you invest and raise your stock market skills to a level younever thought possible.
Table of contents
Introduction.

The Bargain Hunter.

The Visionary.

The Contrarian.

The Sentimentalist.

The Skeptic.

The Trader.

The Adventurist.

The Psychology of Analyzing Stocks.

Dealing with Others.

Investing in Real Life.

Index.
Reviews
"How-to-invest books normally put me to sleep, but DerrickNiederman comes at the subject with such freshness and wit that Igot hooked--and stayed that way right straight through." --Carol J.Loomis, Board of Editors, Fortune Magazine

"Put down the Wall Street Journal and look in the mirror, saysNiederman. The key to successful investing isn't knowing the p/eratio of General Motors. It's knowing yourself. This is fascinatingstuff."--John Rothchild, author of The Bear Book and A Fool and HisMoney