The Innovators: The Engineering Pioneers who Transformed America, College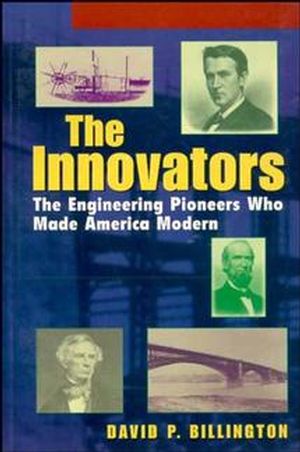 The Innovators: The Engineering Pioneers who Transformed America, College
ISBN: 978-0-471-14096-2
Jun 1996
272 pages
Description
The major engineering pioneers whose works transformed America into the world's leading modern power, from Robert Fulton and his inventions of the steamboat to Thomas Edison's construction of the first electrical power network. Introduces each of the major figures and explains how they came up with their ideas and how their works tranformed commerce, industry, and society.
IRON, STEAM, AND EARLY INDUSTRY, 1776-1855.

Modern Engineering and the Transformation of America.

Watt, Telford, and the British Beginnings.

Fulton's Steamboat and the Mississippi.

Lowell and the American Industrial Revolution.

Francis and the Industrial Power Network.

CROSSING THE CONTINENT, 1830-1883.

The Stephensons, Thomson, and the Eastern Railroads.

Henry Morse, and the Telegraph.

St.

Louis versus Chicago and the Continental Railroads.

Carnegie and the Climax of Steel.

Edison and the Network for Light.

The Centennial Revolutions, 1876-1883.

Notes and References.

Index.

Problems.
Provides three key perspectives on American engineering history: What engineers did; The political and economic conditions which surrounded them; And the impact their work had on the "landscape" of our nation.
Clearly outlines the history ofmajor engineering events in the nineteenth century and examines the engineers responsible for them.
It is the only text of this kind to include practical homework problems, drawing largely from the actual works of the innovators and covering major branches of engineering.