The Insider's Guide to 52 Homes in 52 Weeks: Acquire Your Real Estate Fortune Today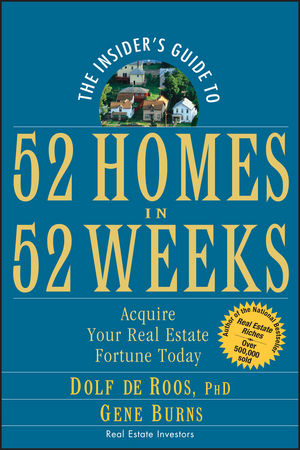 The Insider's Guide to 52 Homes in 52 Weeks: Acquire Your Real Estate Fortune Today
ISBN: 978-0-471-75705-4 February 2006 208 Pages
Description
A real estate guide unlike any other, The Insider's Guide to 52 Homes in 52 Weeks is the true story of a seemingly impossible investing challenge and the two investors who pulled it off--all to prove that you can do it too.

Successful real estate investors Dolf de Roos and Gene Burns wanted to show skeptical investors that there are always great deals to be found. So they set out to buy fifty-two homes in just one year. Not only did they succeed, they did it in less than ten months and earned a lot of money in the process! Tracing this ten-month real estate adventure in depth and detail, The Insider's Guide to 52 Homes in 52 Weeks explains the authors' strategies and techniques for acquiring almost any property in any market. Inside, you'll find step-by-step guidance on:
* Finding the perfect market to invest in
* Designing your strategy and getting started
* Making your first deal
* Finding the help you need to succeed
* Changing strategies midstream
* Networking to find new leads and opportunities
* And much more


Combining unbeatable investing guidance with firsthand accounts of real deals, The Insider's Guide to 52 Homes in 52 Weeks arms investors with a diverse mix of strategies and tactics that will turn every real estate deal into a moneymaker.
Introduction.
Chapter 1. The Real Estate Challenge.
Chapter 2. What We Did in Vegas, and What You Can Do Anywhere.
Chapter 3. Determining Your Strategy and Gertting Started.
Chapter 4. Our First Deals.
Chapter 5. Learning to Ask for Help.
Chapter 6. Shift in Strategies.
Chapter 7. Networking.
Chapter 8. Being Flexible.
Chapter 9. Why Las Vegas will Continue to Grow.
Chapter 10. You Can Do it Too.
Appendix A: Authorization to Release Information.
Appendix B: Grant, Bargain, and Sale Deed.
Appendix C: Limited Power of Attorney.
Appendix D: Binding Legal Agreement.
52 Homes—Some Photos.
Further Tips, Tools, and Information.
About the Authors.
Other Books by Dolf de Roos.
Index.
To prove there are good real estate investments out there in any market, the authors challenged themselves to buy one home every week for an entire year. They used a variety of acquisition and financing techniques and present a mix of strategies all good investors should be ready to use. (Realtor Magazine, July 2006)