The Integrity Dividend: Leading by the Power of Your Word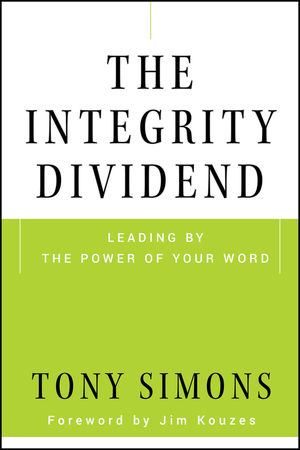 The Integrity Dividend: Leading by the Power of Your Word
ISBN: 978-0-470-44521-1
Oct 2008, Jossey-Bass
256 pages
Description
Corporate and government scandals continue to deepen our mistrust of leaders. While credibility is the foundation of effective leadership, most leaders struggle, and sometimes fail, to align their words and their actions. Now for the first time, leadership expert Tony Simons has measured the bottom-line value of business leaders who live by their word and actually do what they say they are going to do. In The Integrity Dividend, Tony Simons shows how leaders? personal integrity drives the profitability and overall success of their organization. This groundbreaking book is based in on solid research and reveals that businesses led by managers of higher integrity enjoy deeper employee commitment, lower turnover, superior customer service, and substantially higher profitability. This improved performance is the integrity dividend.

Simons conducted dozens of focus groups, surveyed thousands of employees, collected financial and operational numbers, and interviewed over 100 senior executives and executive coaches. The book lays out the research clearly and provides proven tools for managing common integrity challenges. It offers guidance for building individual credibility and for creating an organizational culture of integrity and accountability. Throughout, Simons uses real-world insight and stories drawn from senior executives, line managers, and coaches.

The Integrity Dividend is a fresh view of leadership at a time when it is most needed.
Foreword by Jim Kouzes.
PART ONE: WHAT IS THE INTEGRITY DIVIDEND?
1. The Dollar Value of Your Impeccable Word.
A definition of behavioral integrity and evidence for the dollar return on leaders' living by their word.
2. Executive Sightings of the Integrity Dividend.
How executives describe the integrity dividend in different contexts.
3. Behavioral Integrity Drivers and Payoffs: Why Small Mistakes Can Have Big Costs.
An overall framework for seeing how small integrity missteps can grow in impact.
PART TWO: MANAGING YOUR OWN BEHAVIORAL INTEGRITY: BUILDING TRUST AND CREDIBILITY.
4. Promise Less, But Do It More Often.
Selecting fewer key values to emphasize so you can send a clear and consistent message.
5. The Language of Living by Your Word.
Addressing common communication errors that undermine integrity perceptions.
6. Behavioral Integrity as a Personal Discipline.
Developing the power of your own word through delaying gratification, facing fear, self-awareness, vigilance, and other self-management.
PART THREE: BEHAVIORAL INTEGRITY AND THE RIPPLE EFFECT: BUILDING AND SUSTAINING A LEADERSHIP CULTURE OF INTEGRITY.
7. Easing the Middle Manager's Dilemma.
Reducing the strain middle managers feel when they are asked to implement policies with which they disagree by giving them opportunities to voice their concerns.
8. Creating a Culture of Accountability.
Shaping a high-integrity community through an integrated approach to performance appraisal, training, coaching, and incentives, coupled with a leader's personal enactment of integrity.
9. Management Fashions and the Flavor-of-the-Month Club.
Experimenting and learning without looking foolish.
PART FOUR: BROADER APPLICATIONS AND SUMMARY.
10. The Integrity Dividend and Outside Stakeholders.
A brief application of emergent integrity principles to relationships outside the company: customers, suppliers, and unions.
11. Capturing the Integrity Dividend.
An encouraging summary of what you can do.
Notes.
Acknowledgments and Dedication.
About the Author.
Index.