The International Arms Trade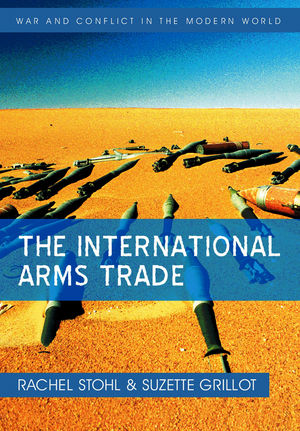 The International Arms Trade
ISBN: 978-0-745-64154-6 November 2009 Polity 176 Pages
Description
The multi-billion dollar business of the international conventional arms trade involves virtually every country in the world. Around the globe, people's lives are being irrevocably changed by the effects of guns, tanks, and missiles. These weapons have the potential to cause a deadly and current threat - one responsible for hundreds of thousands of deaths a year.
This succinct and accessible new book explores the complexities and realities of the global conventional weapons trade. The first book on the subject in nearly a decade, The International Arms Trade provides an engaging introduction to the trade, the effects, and the consequences of these weapons. The authors trace the history of the arms trade and examine how it has evolved since the end of the Cold War. In particular, they assess the role of the largest arms exporters and importers, the business of selling conventional arms around the world, and shed new light on the illicit arms trade and the shadowy dealers who profit from their deadly commerce. The book also looks closely at the devastating effect the business can have on countries, societies, and individuals and concludes with an evaluation of the various existing control strategies and the potential for future control opportunities.
The International Arms Trade will be invaluable for students and scholars of international relations and security studies, and for policymakers and anyone interested in understanding more about the conventional arms trade.
Table of contents
Acknowledgements
List of acronyms
Chapter 1 Introduction to the International Arms Trade
Chapter 2 The International Arms Trade in Historical Perspective
Chapter 3 The Legal Supply and Transfer of Arms
Chapter 4 The Illicit Arms Trade
Chapter 5 The Consequences of the International Arms Trade
Chapter 6 Controlling the International Arms Trade
Chapter 7 Conclusion
Appendix. The EU Code of Conduct on Arms Transfers
Notes
Bibliography
Index
Reviews
"A wealth of fascinating detail on the often murky workings of the arms business, and explores the trade's political and security complexes - and what should be done to curb it."
Middle East International
"Stohl and Grillot have produced a useful basic compilation of latest trends in the international arms trade from both supply and demand standpoints. They introduce the general and undergraduate reader to legal issues and underlying reasons for arms exports, ranging from the economic to technological and strategic, and they catalog both the continuities and changes among the world's top-ranked suppliers."
Choice
"The concise text, which makes a good introduction and reference guide, is supplemented by nearly 60 pages of notes and bibliographic information for readers who would like to dig more deeply."
Arms Control Association
"This is an indispensable primer on the global weapons business - how it works, who it hurts, and what can be done to rein it in. Stohl and Grillot have produced a hard-hitting, well-documented, and highly readable account of the most pressing security issue of our era."
William Hartung, Director, Arms and Security Initiative, New America Foundation
"This book does an admirable job of covering a very large literature, including human security and the illegal arms trade, among other areas. I don't think there is a comparable book available. The international arms trade is an important subject that is widely misunderstood. This book will go a long way to remedying this defect in our knowledge."
William W. Keller, Professor of International Security and Political Science at the University of Pittsburgh
"For centuries, the international arms trade has provoked conflict, produced vast bloodshed, and fueled local rivalries. There is no better guide to this deadly commerce - and how to control it - than Stohl and Grillot's The International Arms Trade."
Michael Klare, author of Resource Wars and Blood and Oil
"A must-read for policymakers around the world."
Ambassador Roberto Garcia Moritan, Chair of the UN Open Ended Working Group on the Arms Trade Treaty and the UN Group of Governmental Experts on the UN Arms Register
What's New
Succinct and illuminating new volume in Polity's War and Conflict in the Modern World series

Explores the complexities and realities of the global conventional weapons trade since the end of the Cold War

Assesses the role of the largest arms exporters and importers and scrutinizes the business of selling conventional arms around the world

Fully up-to-date, this is a must-read for students and anyone interested in the conventional arms trade today