The International Brand Valuation Manual: A complete overview and analysis of brand valuation techniques, methodologies and applications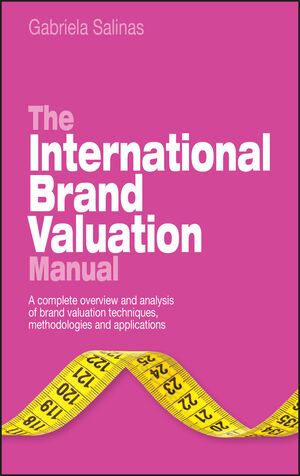 The International Brand Valuation Manual: A complete overview and analysis of brand valuation techniques, methodologies and applications
ISBN: 978-0-470-74031-6
Sep 2009
448 pages
Description
The International Brand Valuation Manual is a detailed and extensive review of the main brand valuation models. The book reveals the state of the art in the field of brand valuation and coherently relates major trends in the theory and practice of brand valuation. This "one-stop" source is for valuation professionals as well as financial and marketing specialists who need to have an understanding of the principal valuation methods. Salinas also analyses the respective efficacy, advantages, disadvantages, and prospects for the future for each method.

The book:

- Provides a thorough overview of all the tools available for the brand valuation practitioner.

- Offers an informed view on which methodologies are most suitable for different types of applications, and explains why.

- Acts as an all-in-one source of reference for specialists who advise clients on which methodology to employ, or who are considering adopting one themselves.

- Features case studies and examples from Guinness, PwC, Rolls-Royce, Santander, Shell, Telefonica, Unilever, BMW, Hanson Trust, Cadbury-Schweppes, Kellogg, Coco-Cola, Mercedes, Rolex, among others.

Gabriella Salinas is the Global Brand Manager at Deloitte Touche Tohmatsu, Madrid, Spain.
LIST OF FIGURES AND TABLES.
FOREWORD.
ACKNOWLEDGEMENTS.
INTRODUCTION.
1 THE CONCEPT AND RELEVANCE OF BRAND.
1.1 The concept of brand.
1.2 Brand value.
1.3 The growing importance of the economic value of brand.
1.4 Conclusions.
2 THE ORIGIN AND EVOLUTION OF VALUATION METHODS.
2.1 The Origin and evolution of valuation methods.
2.2 Conclusions.
3 BRAND VALUATION METHOD AND PROCESS.
3.1 Brand valuation process.
3.2 Conclusions.
4 GENERAL APPROACHES TO BRAND VALUATION.
4.1 Cost approach.
4.2 Market approach.
4.3 Income approach.
5 BRAND VALUATION METHODS AND PROVIDERS.
5.1 AbsoluteBrand.
5.2 AUS Consultants.
5.3 BBDO.
5.4 Brandient.
5.5 BrandEconomics.
5.6 Brand Finance.
5.7 BrandMetrics.
5.8 Brand Rating.
5.9 Consor.
5.10 Damodaran's valuation model.
5.11 Financial World.
5.12 FutureBrand.
5.13 GfK-PwC-Sattler: Advanced Brand Valuation model.
5.14 Herp's model.
5.15 Hirose model.
5.16 Houlihan Advisors.
5.17 Intangible Business.
5.18 Interbrand.
5.19 Kern's x-times model.
5.20 Lev's Intangibles Scoreboard.
5.21 Millward Brown Optimor.
5.22 Motameni and Shahrokhi's Global Brand Equity Valuation model.
5.23 Prophet.
5.24 Repenn's brand valuation model (System Repenn).
5.25 Sander's Hedonic brand valuation method.
5.26 Sattler's model.
5.27 Semion.
5.28 Simon and Sullivan's stock price movements model.
5.29 The Nielsen Company: Brand Balance Sheet and Brand Performance.
5.30 Trout & Partners.
5.31 Villafañe & Associates' Competitive Equilibrium model.
5.32 Other brand valuation providers and models.
5.33 Conclusions.
6 A TAXONOMY OF BRAND VALUATION METHODS.
6.1 By use of financial or non-financial indicators.
6.2 By application or possible objectives.
6.3 Classification proposed by BBDO.
6.4 Classifications based on mixed criteria.
6.5 By intended universality of the calculated value.
6.6 By its nature or origin (academic vs. commercial).
6.7 By approach employed (cost, market and income).
6.8 By method of determining the proportion of income or revenues attributable to brand.
6.9 By method of "representing brand risk".
6.10 By method of "representing the brand's growth and useful life".
7 THE CURRENT SITUATION.
7.1 General trends in brand valuation.
7.2 Common errors and misconceptions in brand and intangible asset valuation.
7.3 Conclusions.
8 IS CORPORATE BRAND VALUATION POSSIBLE?
8.1 What is "corporate brand," and is it the same as "corporate reputation?"
8.2 Why value corporate brands?
8.3 Methodological options proposed for corporate brand valuation.
8.4 Models based on the concept that "corporate brand or reputation" adds value to product brands.
8.5 Model based on the company value's sensitivity to variations in "corporate brand or reputation" value.
8.6 CoreBrand's model for measuring the percentage of market capitalization attributable to corporate brand.
8.7 Conclusions.
9 THE FUTURE OF BRAND VALUATION.
9.1 The prospect of methodological consensus: Standardization vs. affinity of applications and methods.
9.2 Future trends in the supply and demand of brand valuation services.
9.3 Accounting users: financial officers' discomfort.
9.4 Marketing specialists: using valuation prudently and founding a new language compatible with finance.
9.5 Regulators: behind the scenes, but with great confidence.
REFERENCES.
INDEX.
A rigorous, state of the art overview of the field of brand valuation from the Global Brand Manager of Deloitte Touche.
Provides a detailed and extensive review of the main brand valuation models, depicting the state of the art in the field and coherently relating major trends.
Features case studies and examples from Guinness, PwC, Rolls-Royce, Santander, Shell, Telefonica, Unilever, BMW, Hanson Trust, Cadbury-Schweppes, Kellogg, Coco-Cola, Mercedes, Rolex (to name a few)