The International Encyclopedia of Interpersonal Communication, 3 Volume Set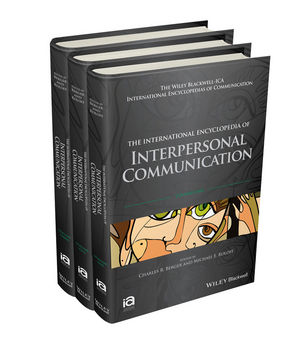 The International Encyclopedia of Interpersonal Communication, 3 Volume Set
ISBN: 978-1-118-30605-5
Jan 2016, Wiley-Blackwell
2048 pages
Description
The International Encyclopedia of Interpersonal Communication presents a comprehensive overview of the theories, concepts and processes that interpersonal communication researchers use to explain a wide variety of social interaction phenomena.


Over 270 entries explore: interpersonal conflict, negotiation, relationship development, interactional adaptation, social influence, and, communication in the workplace, at school and within family life

Encompasses both theory and practice, bringing together the fascinating and groundbreaking research from the field, from the first generation of interpersonal communication scholars to the very latest developments
Part of The Wiley Blackwell-ICA International Encyclopedias of Communication series, published in conjunction with the International Communication Association
Volume I
The International Communication Association vii
About the Editors ix
Contributors xi
Alphabetical List of Entries xix
Thematic List of Entries xxiii
Editors' Introduction xxix
Interpersonal Communication A–? 000
Volume II
Interpersonal Communication ?–? 000
Volume III
Interpersonal Communication ?–Z 000
Index 000
"The editors, both noted scholars, winnowed the multiplicity of topics in the continually expanding purview of communication to fit the overall theme of this three-volume set, which offers more than 270 entries covering the field's major theories, processes, constructs, contexts, and research methods." (Choice Connect, 2016)
'This particular title is a book about what makes us human. There are, as far as I am aware, no other reference sources covering exactly the same subject – certainly nothing remotely on the same scale as this.' - Martin Guha, Reference Reviews, Vol 31, No 1, 2017.