The International Encyclopedia of Revolution and Protest: 1500 to the Present, 8 Volume Set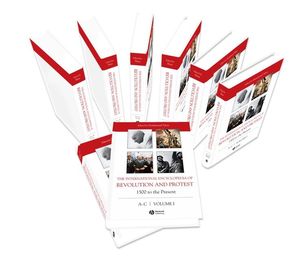 The International Encyclopedia of Revolution and Protest: 1500 to the Present, 8 Volume Set
ISBN: 978-1-405-18464-9 April 2009 Wiley-Blackwell 4280 Pages
Description
This definitive 8-volume reference is a comprehensive print resource covering the history of protest and revolution over the past 500 years – throughout the modern era of mass movements. For more information see www.revolutionprotestencyclopedia.com.

Definitive reference work on the role of popular agency in transforming the world in which we live

First historical encyclopedia to provide scholars and teachers and students with the information they need to understand the role and significance and origin of protest and revolution from 1500 to the present

8-volume major reference in A-Z format, with entries ranging from 500 to 14,000 words

Provides clear, concise explanations of events and larger social movements, and biographies of key people

Presents major uprisings and protest movements, and the ideas, ideologies and activists that propelled them, chronicles the manner in which they unfolded, traces their roots, goals, tactics, and influence, and evaluates their successes and failures

Internationally diverse editorial board and contributors

Includes over 150 photographs, figures, and maps
An online electronic version is also available (ISBN 978-1-4051-9807-3).  In addition to the features of the print version, the online version provides:
Regular revisions and new entries – updated once a year

Links to comprehensive collection through Blackwell Reference online

Links to other resources available on the web

Powerful searching, browsing, and cross-referencing capabilities, including Open URL linking
Notes on the Editors (volume I only).
About the General Editor.
Board of Editors.
Board of Associate and Advisory Editors.
Notes on Contributors (volume I only).
Introduction (volume I only).
Acknowledgments (volume I only).
Chronology of Significant Events in Revolution and Protest (volume I only).
Lexicon (volume I only).
Maps (volumes I–VII).
Volume I: Abalone Alliance – Blanqui, Louis Auguste (1805–1881).
Volume II: Bloch, Marc (1886–1944) – Davis, Angela (b. 1944).
Volume III: Davitt, Michael (1846–1906) – Haiti, resistance to US occupation.
Volume IV: Haiti, revolutionary revolts, 1790s – Lempira (d. 1537).
Volume V: Lenin, Vladimir Ilyich (1870–1924) – People's Liberation Front of Sri Lanka ( JVP).
Volume VI: Peoples' Global Action Network – Sturm und Drang.
Volume VII: Sudan, Aba Island Rebellion, 1970 – Zwingli, Huldrych (1484–1531).
Volume VIII: Index.
"A helpful lexicon provides lists of entries by geography, chronological era, or broad topics such as "Gender and Sexuality," "Foreign Intervention," and "Guerilla Tactics." No comparable work exists in the reference literature." (CHOICE, August 2009)
"A very user-friendly work, and one that can be used effectively at school and college level as well as at more sophisticated research levels … you get a lot for your money, above all if your resources in this cross-disciplinary field are limited and you feel pressure to build them up at one fell swoop … .The arrangement is clear and coverage wide-ranging, making use of the online and print versions equally attractive, each having its distinctive strengths." (
Reference Reviews
, December 2009)
"Not an area of the world or significant topic has been ignored. All flavors of socialism, communism, and anarchism have been included as well as .... social movements (such as the LGTB movement), labor movements, and the women's movement ... .This wonderful set is highly recommended for larger public and academic libraries ... .Those considering are advised to check www.revolutionprotestencyclopedia.com, which provides a listing of every entry in both print and online versions of this superb work." (Booklist, October 2009 *Starrred Review and Booklist 2009 Editor's Choice)
"Ness… has assembled a team of contributors from around the world to work on what may easily become the definitive reference on the topic of protest… The exhaustive nature and truly impressive scope of this set make it a valuable research tool for scholars. Those who opt for the e-version will benefit from regular revisions and new entries added annually, links to other online resources, and open URL linking." (Library Journal)
"The exhaustive nature and truly impressive scope of this set make it a valuable research tool for scholars." (Library Journal, May 2009)
Definitive reference work on the role of popular agency in transforming the world in which we live

First historical encyclopedia to provide scholars and teachers and students with the information they need to understand the role and significance and origin of protest and revolution from 1500 to the present

8-volume major reference in A-Z format, with entries ranging from 500 to 14,000 words

Provides clear, concise explanations of events and larger social movements, and biographies of key people

Presents major uprisings and protest movements, and the ideas, ideologies and activists that propelled them, chronicles the manner in which they unfolded, traces their roots, goals, tactics, and influence, and evaluates their successes and failures

Internationally diverse editorial board and contributors

Includes over 150 photographs, figures, and maps
In addition, the online version provides:

Regular revisions and new entries – updated once a year

Links to comprehensive collection through Blackwell Reference online

Links to other resources available on the web

Powerful searching, browsing, and cross-referencing capabilities, including Open URL linking