The Internet Legal Guide: Everything You Need to Know When Doing Business Online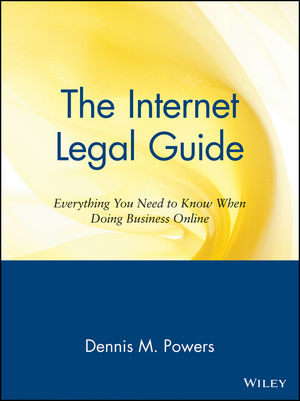 The Internet Legal Guide: Everything You Need to Know When Doing Business Online
ISBN: 978-0-471-16423-4 December 2001 288 Pages
Download Product Flyer
Download Product Flyer
Download Product Flyer is to download PDF in new tab. This is a dummy description. Download Product Flyer is to download PDF in new tab. This is a dummy description. Download Product Flyer is to download PDF in new tab. This is a dummy description. Download Product Flyer is to download PDF in new tab. This is a dummy description.
Description
High Marks for the Internet Legal Guide

"The Internet Legal Guide is a fascinating exploration of discovery in understanding the legal frontiers of the Internet. Dennis Powers does an immense service for all of us in an Internet form of business with this comprehensive and thorough guide." --Ahnalira Koan, Laughing Place Travel (www.ourlaughingplace.com)

"I feel that this book is invaluable and a must read not only for my management team and all of my employees, but also my clients. I especially appreciated the text from actual agreement examples, as well as the discussions of provisions that followed them. I encourage anyone and everyone to buy and read this book twice. The first time to show you everything you have been doing wrong, and the second time to learn how to do it right the next time." --Jim Teece, President and Chief Executive Officer, Project A, Inc. (www.ProjectA.com)

"This book is rich in content and practical advice. It is filled with informative as well as entertaining descriptions of the latest developments in cyberlaw. Most importantly, it gives anyone interested in doing business on the Web the know-how to avoid costly legal pitfalls and problems." --Ray August, Professor of Business Law (http://august1.com/about/)

"What I really like about this book is that it takes a business approach to Internet issues. This is a book for business people with an eye to the bottom line, and how businesses can capitalize on the Web and not get entangled in legal issues. The Internet Legal Guide is essential reading for small business owners, who can not afford the luxury of an in-house legal counsel. A savvy business owner will find this book a road map to turn the Web from threat to opportunity." --Kevin Talbert, Chief Information Officer, Southern Oregon University

"The New Economy is arriving. Even as the stock market and businesses adjust to absorb the 'irrational exuberance' of the late 1990s, consumers and businesses continue unabated in their march to use technology and the Internet to reduce costs, to increase profits, to improve service, to increase choice, and generally to increase the efficiency and potential of all that we do. Dennis Powers has written a timely and informative book to help prepare the nonlawyer, and even to educate lawyers, to prepare for and benefit from this new online world." --Richard Keck, Partner, Telecommunications and Electronic Commerce Practice Group, Troutman Sanders LLP

"A wonderful book that melds the practical into the legal, so we all can navigate our virtual twenty-first-century operations through today s legal-infested waters. I wish I had had it two years ago!! I could have saved a lot of time and legal costs when I was organizing my Internet company. It s so convenient and efficient to have all the material in one place. (The good news is I can still save and benefit from the many excellent ideas.)" --Charles "Hop" Fuhrmann, Chairman, HealthyPlace.com, Inc.; Chairman and CEO, Texaco Limited
Table of contents
1. The World's at Your Fingertips.

2. Surfing Planet Earth and the Clash of Laws.

3. The Developing Law of "Netiquette".

4. Copying in Cyberspace.

5. Posting Pictures, Music, and Videos.

6. "Junk Dog" Statements and Privacy Concerns.

7. "Great Deals," "Easy Money," and Other Ads.

8. Purchasing on the Net.

9. Web Site Disclaimers and Protections.

10. What If You Get a Lemon?

11. But Can Your Court Hear the Case? What Law Is Applied?

12. Cyberlaw Dispute Resolution.

13. Domain Names and Conflicts.

14. Creating Your Own Web Site.

15. Can You Link Freely?

16. Web Site Operating Considerations.

17. The Internet Faces More Legal Shape-Shifting Ahead.

Selected Bibliography.

Index.