The Internet for the Older and Wiser: Get Up and Running Safely on the Web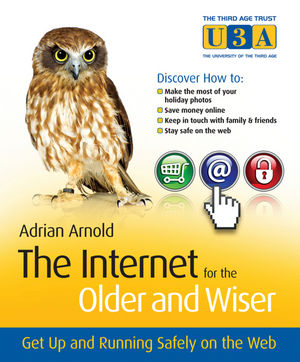 The Internet for the Older and Wiser: Get Up and Running Safely on the Web
ISBN: 978-0-470-97004-1
Jul 2010
326 pages
Description
The Internet is not just for the youthful-it's for everyone!

With plenty of leisure time and disposable income, the over 50s are the fastest growing segment of Internet users. From booking holidays to shopping, joining clubs and researching family history, the Internet is where the people over 50 can indulge in their favorite pastimes and stay in touch with friends and family.

The Internet for the Older and Wiser is the ideal solution to get you up and running safely on the World Wide Web. This full-colour guide walks you step by step through the basics, while giving you the best advice on how to make the most of what the Internet has to offer.
Shows you how to safely search and shop online; research your family tree; stay in touch with family; join social networks; and manage your finances
Written in full colour with explanatory screenshots and an easy-to-read font
Includes brain-teaser sections, a glossary for easy reference, and a useful website directory.
Uses the latest release of Windows Vista Home Premium, Windows XP, and Internet Explorer 8-updates, including Windows 7, and training tutorials can be found online at pcwisdom.co.uk
If you want to get started online but don't know how, you won't find a better guide than The Internet for the Older and Wiser.
Acknowledgement.
About the Author.
Publisher's Acknowledgement.
Icons used in the book.
Chapter 1 – Introduction.
PART I – Using your Internet tools.
Chapter 2 – Getting started.
Chapter 3 – Browsing the Internet.
Chapter 4 – Searching the Internet.
Chapter 5 – Staying safe online.
Chapter 6 – Getting help.
Chapter 7 – Email.
Chapter 8 – Entertainment on the Web.
PART II – Shopping.
Chapter 9 – Shopping.
Chapter 10 – Travel on the Internet.
Chapter 11 – Save money and get a bargain.
PART III – Projects.
Chapter 12 – Digital photography online.
Chapter 13 – Learning a new skill.
Chapter 14 – Managing your finances.
Chapter 15 – Staying in touch.
Chapter 16 – Social networking.
Chapter 17 – Publishing online.
Chapter 18 – Research your family tree.
PART IV – Appendices.
Appendix A – Internet links.
Appendix B – Glossary.
Index.