The Investor's Guide to the Net: Making Money Online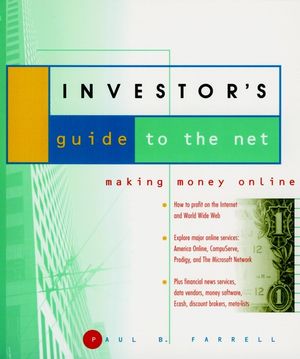 The Investor's Guide to the Net: Making Money Online
ISBN: 978-0-471-14444-1
Feb 1996
416 pages
Description
Your guide to the best online investing sites

Investor's Guide to the Net is your key to successful online investing. This hands-on guide shows you where to steer yourself on the information superhighway by supplying Internet and Web addresses, screen captures, and maps of major online investment sites. You will explore the growing number of investing options available to you through such popular services as Prodigy, America Online (AOL), and CompuServe, plus bulletin boards, chat groups, and much more.

"I thought I knew a lot about the Internet until I read Paul Farrell's excellent Investor's Guide to the Net. It teaches you how to become a profitable twenty-first century investor before the twentieth century ends."--Bill Griffeth, Anchor, CNBC-TV and author of 10 Steps to Financial Prosperity

"An indispensable roadmap for the financial information highway."--William J. O'Neil, Publisher, Investor's Business Daily

"Investing on the Internet is revolutionizing Wall Street. Paul Farrell provides a thorough tour of the new landscape and shows you how to profit from this sea of change."--Norman G. Fosback, Editor-In-Chief, Mutual Funds Magazine

"Investor's Guide to the Net tells individual investors how to make use of the wonderful world of cyberspace without getting lost."--Willard C. Rappleye, Vice Chairman, Financial World Magazine
Emerging Superpowers of Online and Internet Investing.

The Internet: Investor's Global Resource Library.

News Online: Financial Markets, Money, and Investing.

Accessing Major Financial Market Data.

Investment Research and Analysis.

Alternative Securities for Online Investors.

New Software for Real-Time Trading Systems.

New Electronic Brokers and Portfolio Management.

Alternative Information Systems for Cyberspace Investors.

Other Resources for Investors.

Epilogue.

Index.