The Irigaray Reader: Luce Irigaray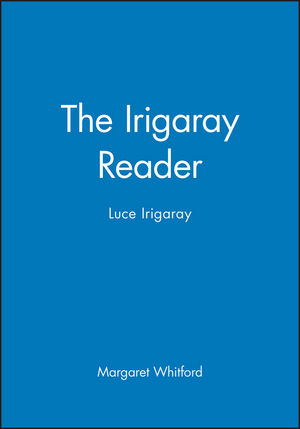 The Irigaray Reader: Luce Irigaray
ISBN: 978-0-631-17043-3 April 1992 Wiley-Blackwell 244 Pages
Description
Luce Irigaray is one of the leading French feminist philosophers and psychoanalysts. The Irigaray Reader is a collection of her most important paeprs to date, ranging across feminism, philosophy, psychoanalysis and linguistics. A number of them appear here for the first time in English.
Table of contents
Acknowledgements.
Introduction.
Glossary..
Section I: The critique of Patriarchy.
Introduction to Section I.
1. Equal or different.
2. The bodily encounter wit the mother.
3. Women-mothers, the silent substratum of the social order.
4. Volume without contours..
Section II: Psychoanalysis and language.
Introduction to section II.
5. The poverty of psychoanalysis.
6. the limit of the transference.
7. The power of discourse and the subordination of the feminine.
8. Questions.
9. The three genres..
Section III: Ethics and subjectivity: towards the future.
Introduction to Section III.
10. Sexual difference.
11. Questions to Emmanuel Levinas.
12. Women-amongst-themselves: creating a woman-woman sociality.
13. The necessity for sexuate rights.
14. How to define sexuate rights?.
15. He risks who risks life itself.
Bibliography.
Index.
Reviews
"A magnificent sample of the best and the boldest of Irigaray's writings and the projects she calls for and calls forth. An excellent text for both introductory and advanced work on Irigaray."
Choice
"Essential reading for those who seek a genuine understanding of the breadth and radicalism of her oeuvre. " The Modern Language Review
Features


First collection of writings by an important contemporary writer and theorist.


Many articles appear here in English for the first time.