The Iron Oxides: Structure, Properties, Reactions, Occurrences and Uses, 2nd, Completely Revised and Extended Edition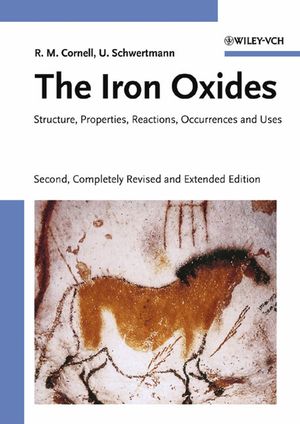 The Iron Oxides: Structure, Properties, Reactions, Occurrences and Uses, 2nd, Completely Revised and Extended Edition
ISBN: 978-3-527-60644-3
Dec 2006
703 pages
Description
This book brings together in one, compact volume all aspects of the available information about the iron oxides. It presents a coherent, up to date account of the properties, reactions and mechanisms of formation of these compounds. In addition, there are chapters dealing with iron oxides in rocks and soils, as biominerals and as corrosion products together with methods of synthesis and the numerous application of these compounds. Their role in the environment is also discussed. The authors are experts in the field of iron oxides and have worked on all the topics covered. Much recent data from the authors' own laboratories is included and opportunities for further research are indicated.

Special features are the electron micrographs and colour plates together with the many different spectra used to illustrate properties and aspects of behaviour. Numerous tables and graphs enable trends and relationships to be seen at a glance. The book concludes with an extensive bibliography.

This book should prove invaluable to industry and to all researchers who, whatever their background and level of experience, are interested in this rapidly expanding field. It is an essential volume for any scientific library and is now in its second, completely revised and extended edition!
1. Introduction to the Iron Oxides.
2. Crystal Structure.
3. Cation Substitution.
4. Crystal Morphology and Size.
5. Surface Area and Porosity.
6. Electronic, Electrical and Magnetic Properties.
7. Characterization.
8. Thermodynamics.
9. Solubility.
10. Surface Chemistry and Colloidal Stability.
11. Adsorption of Ions and Molecules.
12. Dissolution.
13. Formation.
14. Transformations.
15. Rocks and Ores.
16. Soils.
17. Organisms.
18. Products of Iron Metal Corrosion.
19. Applications.
20. Synthesis.
21. Environmental Significance.
References.
Subject Index.
Sources of Figures and Tables.