The Islamic Middle East: Tradition and Change, 2nd Edition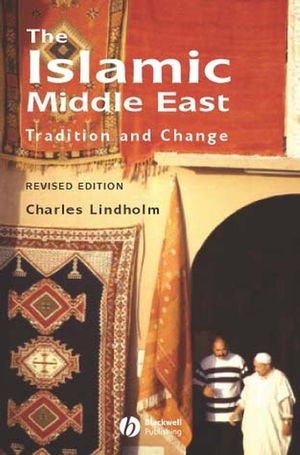 The Islamic Middle East: Tradition and Change, 2nd Edition
ISBN: 978-0-470-69617-0 April 2008 Wiley-Blackwell 352 Pages
Description
The Islamic Middle East is a rare, thought-provoking account of the origins, nature, and evolution of Islam that provides a historical perspective vital to understanding the contemporary Middle East.
List of Illustrations.
Preface.
Acknowledgements.
Glossary.
Part I: Introduction:.
1. The Middle East: Assumptions and Problems.
Part II: Preconditions for Egalitarian Individualism:.
2. Ways of Living.
3. Traditions of Authority and Freedom.
4. The Social Construction of Egalitarianism.
Part III: State and Society: Prophets, Caliphs, Sultans and Tyrants:.
5. The Prophetic Age.
6. Early Struggles for Authority.
7. Sacred and Secular Rulers.
8. Novelties and Continuities.
Part IV: Sacred Power: Reciters, Lawyers, Incarnations and Saints:.
9. The Essentials of Islam.
10. Recapturing the Sacred Past: The Power of Knowledge.
11. The Partisans of Ali.
12. Sufism in Practice.
13. The Contradictions of Saintly Authority.
Part V: Dilemmas of Subordination:.
14. Slaves, Eunuchs and Blacks.
15. The Ambiguities of Women.
16. Escapes from Distinction: Love and Friendship.
Part VI: Conclusion:.
17. Problems and Possibilities.
Chronology of Events.
Notes.
References.
Index.
"Charles Lindholm has provided an exceptional service to both the scholarly community and the public in his masterful work, The Islamic Middle East. Rather than treating Middle Eastern history and institutions as exotic narrative or dry doctrine, he places the development of Islamic civilization firmly in its cultural context. He brings it to life, making it both comprehensible and clear to Western readers."
William Beeman, Brown University
"This is a brilliant book, combining historical knowledge and anthropological theory in an elegant and high-powered manner. This is the best introduction to the classical heartland of Islam available, and it will continue to attract both readers and attention." John Hall, McGill University

"[An] eloquent and clearly written book." The Muslim World Book Review


Claims that much of the Western world shares fundamental values with Middle Eastern cultures and that these similarities have often fueled dispute, but can also provide a basis for dialogue and reconciliation.

Examines the paradox faced by Moslems who value Islamic ideals of equality for all but who live under regimes which do not uphold such ideals.

Provides a historical perspective that is vital to understanding the contemporary Middle East

Reveals the violent consequences of centuries of misunderstanding between Muslim societies and the mainly Judeo-Christian West.

Discusses how viewing the Middle East from a Western perspective dangerously limits understanding.