The JCMS Annual Review of the European Union in 2006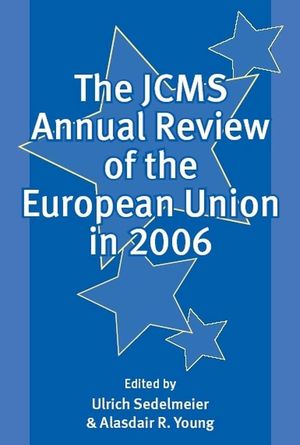 The JCMS Annual Review of the European Union in 2006
ISBN: 978-1-405-15980-7
Oct 2007, Wiley-Blackwell
280 pages
Description
The Annual Review, produced in association with JCMS, The Journal of Common Market Studies, covers the key developments in the European Union, its member states, and acceding and/or applicant countries in 2006/2007.



Contains analytical articles on key political, economic and legal issues in the EU by leading experts, together with a keynote article on the EU's obsession with competitiveness by Colin Hay and a review article on the politics of legal integration by Lisa Conant.

The most up-to-date and authoritative source of information for those engaged in teaching and research or who are simply interested in the European Union.

Includes an invaluable guide to EU documents and publications - and the various websites of the EU - together with a chronology of key events.
Editorial: 2006 A Quiet Year?: Ulrich Sedelmeier and Alasdair R. Young.
1. The Austrian Presidency: Pragmatic Management: Johannes Pollak and Sonja Puntscher Riekmann.
2. The Finnish Presidency: Effi ciency Before Eloquence?: Hanna Ojanen and Eero Vuohula.
3. Keynote Article: What Doesn't Kill You Can Only Make You Stronger: Colin Hay.
4. Review Article: The Politics of Legal Integration: Lisa Conant.
5. Coping Without the Constitutional Treaty: Desmond Dinan.
6. Reinforcing the New Lisbon Message of Competitiveness and Innovation: David Howarth.
7. Justice and Home Affairs: Jörg Monar.
8. Legal Developments: Michael Dougan.
9. Relations with the Wider Europe: Sandra Lavenex and Frank Schimmelfennig.
10. Relations with the Rest of the World: David Allen and Michael Smith.
11. Political Developments in the EU Member States: Karen Henderson and Nick Sitter.
12. Economic Developments in the Euro Area: Amy Verdun.
13. Economic Developments in the Non-Euro Area EU Member States: Debra Johnson.
14. Chronology: The European Union in 2006: Arantza Gomez-Arana


Covers the key developments in the European Union and its Member States in 2006/2007

Contains analytical articles on key political, economic and legal issues in the EU by leading experts, together with a keynote article on the EU's obsession with competitiveness by Colin Hay and a review article on the politics of legal integration by Lisa Conant

The most up-to-date and authoritative source of information for those engaged in teaching and research or who are simply interested in the European Union

Includes an invaluable guide to EU documents and publications - and the various websites of the EU - together with a chronology of key events