The JCT Major Project Form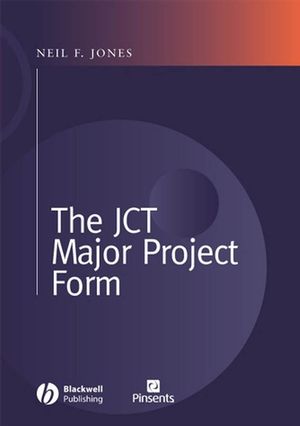 The JCT Major Project Form
ISBN: 978-0-470-68056-8
Apr 2008, Wiley-Blackwell
456 pages
Description
The Joint Contracts Tribunal are publishing a completely new standard form of contract for large clients on major construction projects. The main purpose of the form is to meet the particular needs of large commercial clients who do not themselves intend to occupy the premises, as well as property owners and developers (such as hoteliers and supermarkets) who regularly build.





The Major Project Form is the first JCT form specifically to provide for third party rights. It caters for various levels of design input on the part of client and contractor and incorporates a design submission procedure.





Other key provisions are those dealing with: no retention, acceleration of project, bonus for early completion, cost savings and value improvements, the client's pre-appointed consultants, and mediation.





This new book will look at the contract clause by clause, with full text of the contract itself, and
will examine the background law, highlighting practical issues.
Preface.
Abbreviations.
1. Introduction and Background.
2. General Obligations.
3. Time.
4. Control.
5. Valuation and Payment.
6. Indemnities and Insurance.
7. Assessment and Third Party Rights.
8. Default and Dispute Resolution.
9. Communications Definitions and Attestation.
10. The Appendix to the Major Project Form.
Table of Cases.
Table of Statutes.
MPF Clause Number Index to Text.
MPF and WCD 98 Clause Comparisons.
Index.
'If ever there was a safe pair of hands, they belong to this fellow (Neil Jones)... he uses his knowledge ... to tell us what he thinks the new form means.' Tony Bingham, Building August 04
'Neil F jones is a veteran commentator on construction law, with years of experience as a construction litigator.'

Construction Law
* provides clause by clause commentary on a completely new building contract
* includes clause by clause text of the contract itself
* examines the legal background and highlights any practical difficulties
* written by a highly experienced construction lawyer who has authored a number of construction law books