The Japanization of British Industry: New Developments in the 1990s, 2nd Edition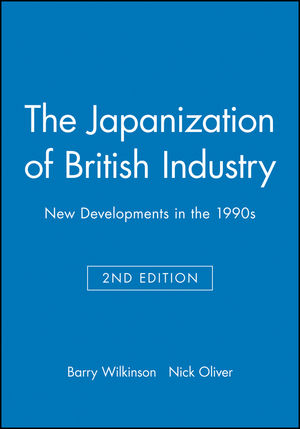 The Japanization of British Industry: New Developments in the 1990s, 2nd Edition
ISBN: 978-0-631-18676-2
Jan 1993, Wiley-Blackwell
384 pages
Description
The second edition of this important book brings practising managers and academics up-to-date on the social and economic impact and presents new survey evidence and summarizes the debate which has emerged on the subject of Japanization since the mid 1980s.
List of Figures.
List of Tables.
Foreword.
Acknowledgements.
Introduction.
1. Western Interest in Japan.
2. Japanese Industrial Practice.
3. Theoretical Perspectives.
4. Case Studies in Emulation.
5. Manufacturing Practices and UK Companies.
6. Personnel Practices and UK Companies.
7. Suppliers, Retailers and UK Companies.
8. Cases: Three Japanese Companies in the UK.
9. Japanese Companies in Britain.
10. Industrial Relations and Trade Unions.
11. Policy Implications and Conclusions.
"This book is of clear value in providing the academic and practitioner reader with a comprehensive review of trends and debates; it is well-organised and clearly written and it contains many stimuli to further research in the field of Japanisation."
"Oliver and Wilkinson supply empirical evidence on the spread of 'Japanisation' in UK manufacturing." Competitive Advantages of Far Eastern Business