The Jossey-Bass Handbook of Nonprofit Leadership and Management, 2nd Edition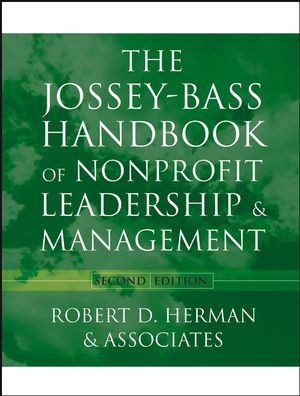 The Jossey-Bass Handbook of Nonprofit Leadership and Management, 2nd Edition
ISBN: 978-1-118-04658-6
Jan 2011, Jossey-Bass
816 pages
Description
The Jossey-Bass Handbook of Nonprofit Leadership and Management offers a comprehensive and in-depth description of the most effective leadership and management practices that can be applied throughout a nonprofit organization. This second edition of the best-selling handbook brings you:
Current knowledge and trends in effective practice of nonprofit organization leadership and management.
A thoroughly revised edition based on the most up-to-date research, theory, and experience.
Practical advice on: board development, strategic planning, lobbying marketing, government contracting, volunteer programs, fund-raising, financial accounting, compensation and benefits programs, and risk management.
An examination of emerging topics of interest such as strategic alliances and finding and keeping the right employees.
Contributions from luminaries such as John Bryson, Nancy Axelrod, and Peter Dobkin Hall, and the best of the new generation of leaders like Cynthia Massarsky.
Order your copy today!
Tables, Figures, and Exhibits.
Preface.
The Editor.
The Contributors.
PART ONE: CONTEXT AND INSTITUTIONS.
1. Historical Perspectives on Nonprofit Organizations in the United States (Peter Dobkin Hall).
2. Nonprofit Organizations and Social Institutions (Jon Van Til).
3. The Legal Framework of the Nonprofit Sector in the United States (Thomas Silk).
4. The Changing Context of American Nonprofit Management (Lester M. Salamon).
5. The Internationalization of the Nonprofit Sector (Helmut K. Anheier, Nuno Themudo).
PART TWO: KEY LEADERSHIP ISSUES.
6. Board Leadership and Development (Nancy R. Axelrod).
7. Executive Leadership (Robert D. Herman, Dick Heimovics).
8. The Strategy Change Cycle: An Effective Strategic Planning Approach for Nonprofit Organizations (John M. Bryson).
9. Ethical Nonprofit Management (Thomas H. Jeavons).
10. Nonprofit Lobbying (Bob Smucker).
11. Strategic Alliances (John A. Yankey, Carol K. Willen).
PART THREE: MANAGING OPERATIONS.
12. Marketing for Nonprofit Managers (Brenda Gainer, Mel S. Moyer).
13. Designing and Managing Volunteer Programs (Jeffrey L. Brudney).
14. Evaluating the Effectiveness of Nonprofit Organizations (Vic Murray).
15. Managing the Challenges of Government Contracts (Steven Rathgeb Smith).
16. Outcome Assessment and Program Evaluation (John Clayton Thomas).
PART FOUR: DEVELOPING AND MANAGING FINANCIAL RESOURCES.
17. Designing and Managing the Fundraising Program (Robert E. Fogal).
18. Enterprise Strategies for Generating Revenue (Cynthia W. Massarsky).
19. Financial Accounting and Financial Management (Robert N. Anthony, David W. Young).
20. Management Accounting (David W. Young).
21. Risk Management (Melanie L. Herman).
PART FIVE: MANAGING PEOPLE.
22. Keeping the Community Involved: Recruiting and Retaining Volunteers (Stephen McCurley).
23. Finding the Ones You Want, Keeping the Ones You Find: Recruitment and Retention in Nonprofit Organizations (Mary R. Watson, Rikki Abzug).
24. Total Rewards Programs in Nonprofit Organizations (Nancy E. Day).
25. Principles of Training for Volunteers and Employees (Nancy Macduff).
Conclusion: The Future of Nonprofit Management (Robert D. Herman).
Name Index.
Subject Index.
The book offers a wealth of new material and includes key topics such as board development, strategic planning, lobbying, marketing, fundraising, volunteer management, financial management, risk management, and compensation and benefits.
Contributors are among the best known academics and practitioners including John Bryson, Nancy Axelrod, and Peter Dobkin Hall.
The first edition was the best-selling, best-known nonprofit management text and reference.
A comprehensive guide to every aspect of nonprofit management.