The Judith Butler Reader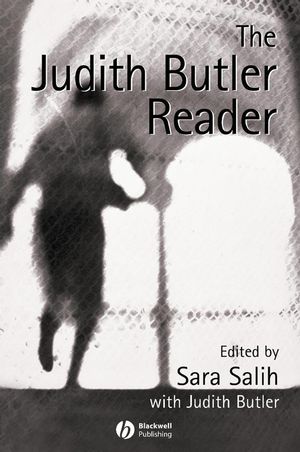 The Judith Butler Reader
ISBN: 978-0-631-22594-2 March 2004 Wiley-Blackwell 382 Pages
Description
The Judith Butler Reader is a collection of writings that span her impressive career and trace her intellectual history.

Judith Butler, author of influential books such as Gender Trouble, has built her international reputation as a theorist of power, gender, sexuality and identity
Organized in active collaboration between Judith Butler and Sara Salih
Collects together writings that span Butler's impressive career as a critical philosopher, including selections from both well-known and lesser-known works
Includes an introduction and editorial material to assist students in their readings of theories that stand at the forefront of contemporary theoretical and political debates
Acknowledgments.
Introduction.
Section 1: Sex, Gender Performativity, and the Matter of Bodies.
1. Variations on Sex and Gender: Beauvoir, Wittig, Foucault (1987).
2. Excerpts from Subjects of Desire: Hegelian Reflections in Twentieth-Century France (1987).
3. Excerpts from Gender Trouble: Feminism and the Subversion of Identity (1990).
4. Imitation and Gender Insubordination (1990).
5. Excerpt from Bodies That Matter: On the Discursive Limits of 'Sex' (1993).
Section 2: Fantasy, Censorship, and Discursive Power.
6. The Force of Fantasy: Mapplethorpe, Feminism, and Discursive (1990).
7. Endangered/Endangering: Schematic Racism and White Paranoia (1993).
8. Excerpt from Excitable Speech: A Poltics of the Performative (1997).
Section 3: Subjection, Kinship, and Critique.
9. Excerpt from The Psychic Life of Power: Theories in Subjection (1997).
10. Excerpt from Contingency, Hegemony, Universality: Contemporary Dialogues on the Left (2000).
11. Excerpt from Antigone's Claim: Kinship Between Life and Death (2000).
12. What Is Critique? An Essay on Foucault's Virtue (2001).
Section 4: Making Difficulty Clear.
13. Changing the Subject: Judith Butler's Politics of Radical Resignification: Gary A. Olsen and Lynn Worsham.
Index
"Judith Butler is quite simply one of the most probing, challenging, and influential thinkers of our time.
The Judith Butler Reader
provides an exemplary selection from across the whole range of Butler's writings: gender identity, performativity, subjectivity, discursive power, kinship, and critique. In making available in one place the full breadth of Butler's thought, Salih's reader will prove an invaluable resource for students and scholars alike."
J. M. Bernstein, New School for Social Research
"These important essays represent the aspirational and analytic agendas of Judith Butler's remarkable work. Hers is a unique voice of courage and conceptual ambition that addresses public life from the perspective of psychic reality, encouraging us to acknowledge the solidarity and the suffering through which we emerge as subjects of freedom." Homi K. Bhabha, Harvard University
Judith Butler, author of influential books such as Gender Trouble, has built her international reputation as a theorist of power, gender, sexuality and identity
Organized in active collaboration between Judith Butler and Sara Salih
Collects together writings that span Butler's impressive career as a critical philosopher, including selections from both well-known and lesser-known works
Includes an introduction and editorial material to assist students in their readings of theories that stand at the forefront of contemporary theoretical and political debates