The Kinematic Geometry of Gearing: A Concurrent Engineering Approach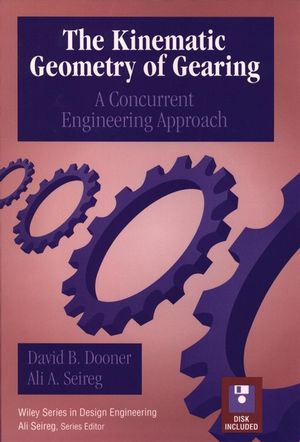 The Kinematic Geometry of Gearing: A Concurrent Engineering Approach
ISBN: 978-0-471-04597-7
Mar 1995
472 pages
Product not available for purchase
Description
Describing a dynamic new approach to the design, manufacture and evaluation of gears, The Kinematic Geometry of Gearing is an indispensable tool of the trade for gear and power transmission engineers and tribologists. It presents an entirely new and comprehensive methodology for the design and manufacture of virtually all types of toothed bodies for general function transmission. The authors develop, from first principles, the kinematic relationships necessary to design and manufacture circular and non-circular gears and other contact-type motion/force transmission mechanisms. They also demonstrate--with the help of the enclosed software--how the user specifications can be implemented in an interactive PC environment such that gear pairs and cutter pairs can be designed concurrently.

The revolutionary approach outlined by Professors Dooner and Seireg is based on mathematical derivations from various theories of kinematic geometry, especially the screw theory. This approach arms engineers and tribologists with a powerful new tool for enhancing the performance of conventional gears mounted on parallel or non-parallel axes. Furthermore, it has been proven capable of greatly facilitating the design and manufacture of new devices, revealing heretofore unexplained phenomena which currently hinder the advancement of the gearing art beyond application to constant speed transmission. It also provides a means of developing and manufacturing tools and gear forms which were previously difficult to conceptualize or implement.

The Kinematic Geometry of Gearing is divided into three sections, with the first being devoted to introducing the basic concepts and various types of toothed motion/force transmission mechanisms. Part II builds upon those concepts to develop a comprehensive methodology that can be applied to the design and manufacture of various types of gears and motion function generators.

Part III discusses the design procedure itself. The authors supply a number of simplified design formulas, and, with the help of numerous examples, they clearly illustrate the capabilities of this versatile new approach to the integrated, interactive CAD/CAM of gear pairs and their production process.

This groundbreaking book presents an entirely new and comprehensive methodology for the design, manufacture and evaluation of gears and virtually all other types of toothed motion/force transmission mechanisms. In it, the authors develop the kinematic relationships necessary to design and manufacture gear pairs and, with the help of the enclosed software, demonstrate how those relationships can utilize the design specification in an interactive PC environment to produce the design and manufacturing information and performance characteristics concurrently.

A powerful new tool for evaluating and enhancing the performance of gear pairs and dealing with previously unexplained phenomena
* An evolutionary leap in the design and manufacture of gear pairs provides a method for developing and manufacturing tools and gear forms which were previously difficult to conceptualize or implement
* Design formulas and numerous real-world examples clearly illustrate the capabilities of this versatile new approach
* Enclosed disk demonstrates to designers how to implement the described method into a fully integrated CAD and CAM process
FUNDAMENTAL PRINCIPLES OF TOOTHED BODIES IN MESH.

Introduction to the Kinematics of Gearing.

THE KINEMATIC GEOMETRY OF CONJUGATE MOTION IN SPACE.

Kinematic Geometry of Conjugate Tooth Profiles.

Generalized Reference Coordinates for Spatial Gearing: The Cylindroidal Coordinates.

Analysis of Toothed Bodies for Motion Generation.

Manufacture of Toothed Bodies.

Surface Topology and Conjugate Surfaces.

THE INTEGRATED DESIGN AND MANUFACTURING PROCESS.

Geometric Synthesis Process.

Integrated Interactive Process.

Case Illustrations of the Integrated CAD/CAM Methodology.

Appendices.

Glossary.

References.

Index.