The Knowledge Activist's Handbook: Adventures from the Knowledge Trenches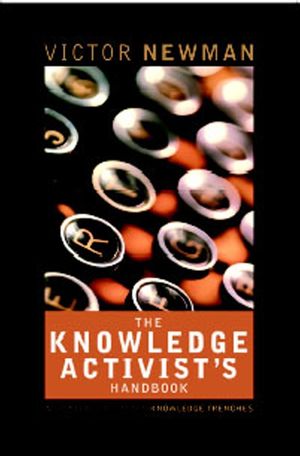 The Knowledge Activist's Handbook: Adventures from the Knowledge Trenches
ISBN: 978-1-841-12320-2 January 2003 Capstone 182 Pages
Description
The role of the knowledge activist is to be unreasonable, to identify and combine those small grains of truth that have the potential to become pearls.

The Knowledge Activist's Handbook demonstrates through the medium of storytelling how individuals can combine emotion and reflection to create their own knowledge.

Victor Newman, Pfizer's Chief Knowledge Officer, attacks the conspiracy of tedium around KM literature. The Knowledge Activist's Handbook is provocative and counter-cultural. It turns ideas on their heads and entertains while telling stories that offer insights and concrete strategies for improving knowledge and its use in any organization.

This is a book for busy people who want to cut to the chase and have some fun at the same time. Being a knowledge activist means deciding to make thinking about knowledge a personal activity. The Knowledge Activist's Handbook encourages individuals to consider thinking their own thoughts about knowledge by reflecting on their own experience. Each chapter includes stories from the author's consulting experiences and ends with five immediate action points.
Introduction.

1 Developing Personal Knowledge.

Strong Concept.

Home-grown or Tinned?

Tightrope Walking.

Translate, Synthesise, Connect.

How To Go on a Dead Cat Hunt.

2 Developing Knowledge Leadership.

Smell Coffee, Taste Coffee.

Golden Mantra.

Homes, Not Pyramids.

Rule of Three.

Shiplogic.

3 Working with Knowledge.

Death by Examination.

Goodbye to Knowledge Management.

The Knowledge Idiots.

Knowledge is Not Power.

Trick or Treat?

The Bridge.

Moments of Truth.

Post-It, Cruel Partner, Aspirin and Alien.

4 The Organization vs. Knowledge Management.

The Blind Storyteller.

Simon Says: Don't Copy.

The Elvis Trap.

Curse of the Knowledge Princes.

Bodybuilding for the Knowledge Organization.

The Naked Emperor's Wardrobe.

Who Needs Groundhog Day?

Pain is the Spur.

Your Knowledge or Your Life.

The Dunce's Cap.

Potemkin Cities.

5 Creative Approaches and Tools.

Barefoot Knowledge Management.

Predator's Mask.

The Eternal Innovating Triangle.

Innovating Styles Profile.

Dream/Unpack/Engage.

6 Startgame/Endgame .

Index.
"…This is a thoroughly entertaining book to read…It is an inspirational title…" (PS Advisor, 1 April 2003)
"…essential reading for all corporate learning development and knowledge managers" (Human Resource Management, No.4.9 2004)
"…practical and insightful. I commend it to you..." (Professional Marketing, Vol.12, No.6, February 2005)