The Labour Party Since 1945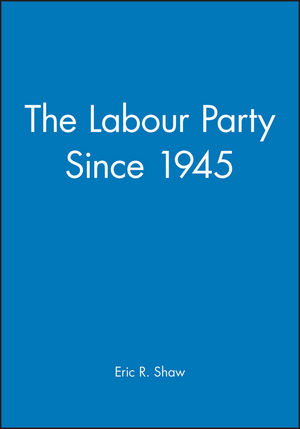 The Labour Party Since 1945
ISBN: 978-0-631-19655-6
Apr 1996
276 pages
Description
This book provides a critical overview of the changing Labour Party in postwar Britain. Adopting a thematic approach within a structured, chronological framework, the book revolves around one central question: what has the Party been about and what specific objectives has it striven to realize? The author examines the so-called transformation from "Old Labour" to "New Labour", and not only identifies the key stages in its evolution, bur highlights, too, the major determinants of the change.
Preface.
1. The Early Years 1900-1945.
2. The Triumph of Labour 1945-51.
3. The Rise of Keynesian Social Democracy.
4. Keynesian Social Democracy in Power 1964-1970.
5. Keynesian Social Democracy in Retreat 1970-74.
6. The Unravelling of Keynesian Social Democracy 1974-1979.
7. Time of Troubles 1979-1987.
8. The Abandonment of Keynesian Social Democracy 1987-95.
Conclusion: Labour Old and New.
Bibliography.
"This is an unpretentious, straightforward book intended as a student text and it fits the bill very well. Eric Shaw writes clearly and in this book he distils his detailed knowledge of the Labour Party and the issues and questions that arise in its post-war history into a readable and clearly organised account. It should certainly be on all relevant reading lists." David Denver, EPOP Newsletter
* Provides critical overview of changing Labour Party in postwar Britain.
* Identifies key stages in evolution of Labour, and determinants of that change.
* Sets development of Labour Party within context of dominant theories of party political change.
* Examines to what extent Old Labour has really been transformed to New Labour.